Cost vs. Value Renovations 2014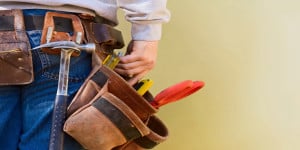 By Albert Fontenot
As a landlord in Charleston, you always have to straddle a very fine line when it comes to making improvements on your rental property. I'm not talking about routine maintenance or necessary repairs, because those tasks are part of your inherent duty as a responsible landlord, and should just regularly scheduled and counted as just another cost of being in the rental business.
No, in this case I'm talking about those improvements that are necessary to modernize and update your property. In most cases, these types of projects involve rooms or features of the home that are still functional, but severely dated. Most times, all that's needed is a few cosmetic touches, but other times, a significant renovation or facelift is in order.
The aforementioned "fine line" lies among several considerations –
On the one hand, a Basic Landlord Credo has always been "Spend what you have to, but no will more". In other words, make sure everything is safe and in good working order, but don't worry too much about cosmetics. Make it nice, but not too nice. For better or for worse, the philosophy has always been to keep in mind that this is a rental property, not your own personal home.
On the other hand – this property is and will be somebody's personal home. Whether you plan on continuing to rent out the home or you intend to sell it at some point, there are reasons either way to stay current with renovations.
Although you purchased this property as a means to create a steady and long-term income stream, any business-savvy landlord must also be constantly prepared to sell if the right buyer were to come along. To that end, you must always keep the home attractive to potential buyers who might want to live there themselves. Curbside and interior appeal must always be kept in mind.
Even if selling the home isn't in your plans, modernization can have a big effect upon your success as a landlord. If your property is kept up-to-date, you'll attract more renters, lose fewer tenants to attrition, and won't suffer from as many vacant days.
Regular, properly-completed renovations will attract a higher quality of renter – the kind who pays their rent on time, doesn't annoy the neighbors, and keeps your property in decent shape.
Most experts agree that to stay reasonably current, a home should be renovated every 15 to 20 years. Interestingly, the average American only stays in the home for seven years. Because the turnover rate is more frequent than the renovation rate, what ends up happening is that most homes are more than one renovation behind. Over time, this can have a major impact on both the value and attractiveness of your property.
According to the 2014 Cost vs. Value Report, there are a number of popular renovation projects that, if performed properly, will significantly increase a home's resale value. It is this added value that helps you recoup your initial improvement investment. In this instance, the data was compiled specifically for Charleston. Because the property in question is a rental, only "midrange" project parameters were chosen.
Let's take a look at a few of the more common projects that will return "bang for your buck"–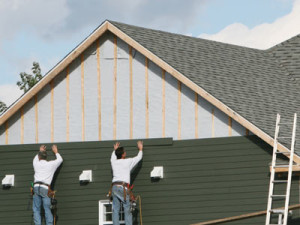 Vinyl Siding Replacement – Removal and replacement of 1250 square feet of existing siding with new vinyl siding and associated trim. To be done properly, any rotten or damaged wood would have to be repaired or replaced.
Why siding? Siding will beautify the exterior of the home forevermore while at the same time eliminating the need for periodic repainting. Modern siding is also very versatile, coming in a variety of natural-grain patterns, and over 350 colors.
Average Job Cost – $10,946 Average Resale Value Added – $11,990 Cost Recouped – 109.5%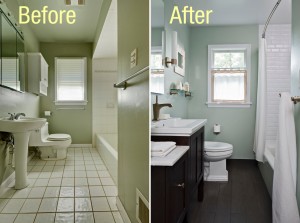 Bathroom Remodel – Project Size: Existing 5 x 7 bathroom. Replace all fixtures, install 30" x 60" porcelain/steel tub, 4" x 4" tile, single-lever shower control, standard toilet (white), solid surface vanity with Incorporated sink, lighted and recessed medicine cabinet, wallpaper (vinyl), and ceramic tile floor.
Average Job Cost – $15,029 Average Resale Value Added – $15,033 Cost Recouped – 100%
Why the bathroom? From a resale standpoint, the bathroom is one of the two most-remodel rooms in a home (along with the kitchen), and it is a feature highly sought after by homebuyers. From a landlord standpoint, it gives much-needed maintenance and updating to a room that typically suffers a lot of "normal life" abuse.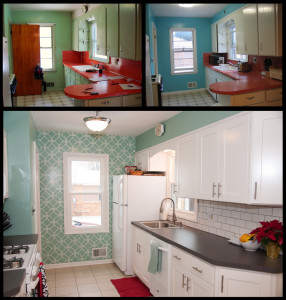 Minor Kitchen Remodel – Project size: existing 200 square foot kitchen. Replace all cabinet doors and drawer fronts. Replace oven and stove with energy-efficient models. Replace laminate countertops and install mid-range sink and faucet, pull up old flooring and replace with high-traffic flooring, hang wallpaper, and paint trim.
Why the kitchen? By far, a modern, up-to-date kitchen is the one home feature most desired by potential homebuyers and renters alike. Any time a property is shown, the prospects almost invariably head straight to the kitchen during their tour.
Average Job Cost – $17,792 Average Resale Value Added $19,066 Cost Recouped – 107.2%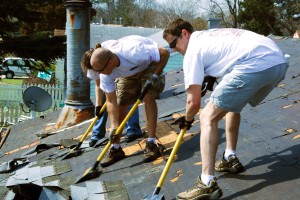 Roofing Replacement – Remove and dispose of existing tiles, down to the bare wood. Install 30 squares (3000 square feet) of fiberglass asphalt shingles, including new felt underlayerment, drip edge, and flashing. Shingles should be of 235-pound rating and have a minimum warranty of 25 years. To be done properly, any rotten wood will have to be replaced.
Why the roof?" Out of all the projects on this short list, this is the one that you are most likely to "need". A roof in disrepair can affect your insurance coverage and actually damage the rest of your home. Also, if the roof does not pass inspection, prospective buyers will not be able to gain loan approval. The key thing to remember is if you need a roof, take the time and the money and do it properly.
Average Job Cost – $18,561 Average Resale Value Added – $16,045 Cost Recouped – 86.4%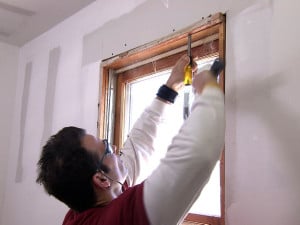 Window Replacement (wood) – Replace ten 3 x 5 single-or-double-hung windows with energy-efficient wood-clad windows. Use aluminum coil stock to wrap exterior trim to match. Interior trim is not disturbed. To do this job properly, rotten windowsills or frames should be replaced.
Why windows? This renovation gives your home an instant facelift, thereby increasing the curbside appeal to both interested buyers and renters. Energy-efficient windows will save your tenants money on their electric bills, and homebuyers would appreciate that one of their most likely projects has already been done.
Average Job Cost –$10,494 Average Resale Value Added $10,663 Cost Recouped –101.6%
None of these renovation projects require any special permits or licenses, but they do require a fair amount of Do-It-Yourself carpentry skills. As long as you have the proper tools and equipment, these jobs are also able to be performed by one person, but teams of two or three could slash the needed timeframe considerably.
There is an old saying in the home improvement industry –
"When considering a do-it-yourself project, first figure out your maximum budget and your maximum timeframe to complete the job. Then, DOUBLE both figures."