Please be aware that the applications department does not accept phone calls. If you have any questions, please send an email to applications@charlestonpc.com and we would be happy to assist you!
**PIease note that is highly recommended to submit your application on a computer using the Google Chrome web browser
Visit our website to view all available properties. To access the application from the homepage, you can either click on "Apply Online" from the dropdown menu at the top right-hand corner of the page or click on the "Find A Rental" tab on the top of the screen.
Find the property you are interested in and click on "view details". Read the listing description carefully, as it will contain specific instructions on that property's application process.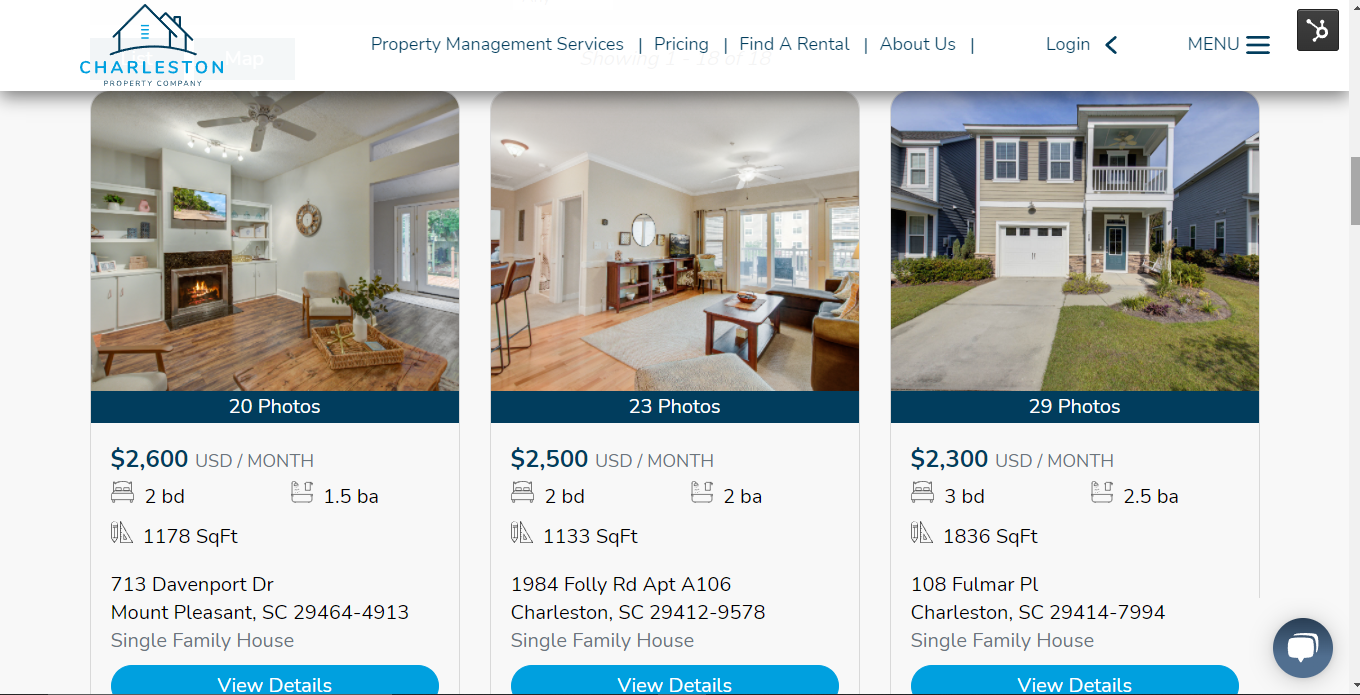 Click "Apply Online" on the left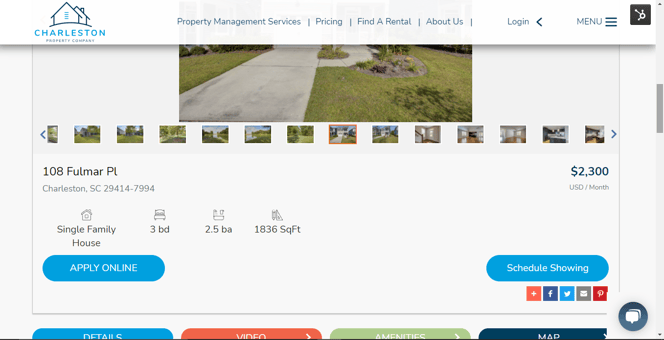 REVIEW OUR APPLICATION POLICIES AND GUIDELINES and determine if you are a qualified candidate!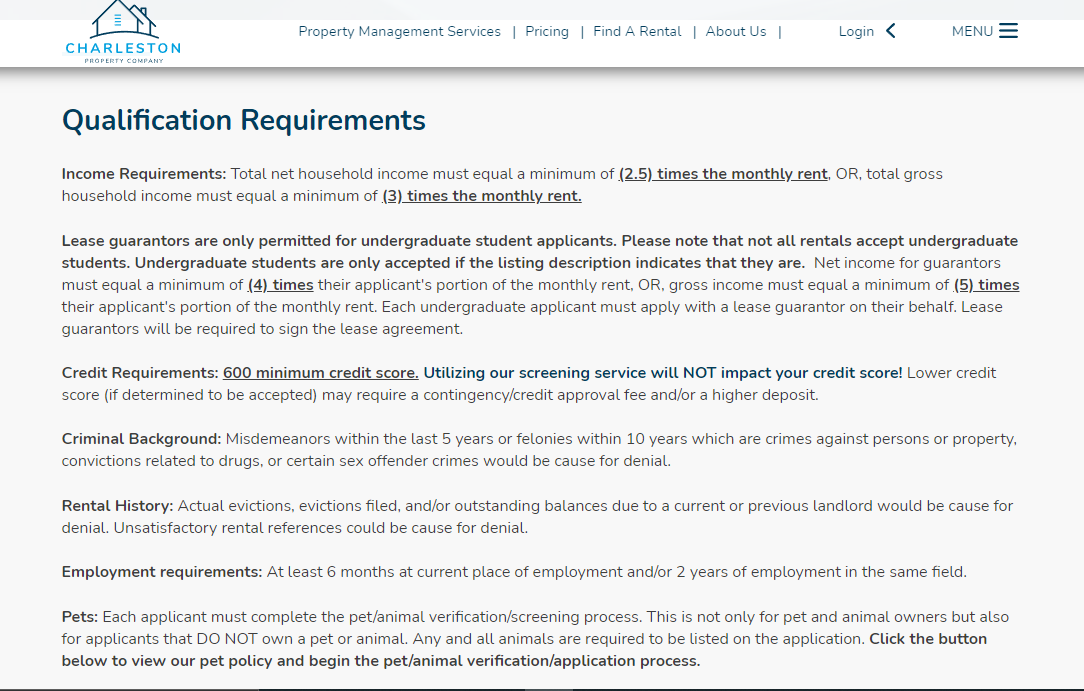 Complete and submit the form. The online application form must be submitted for each adult over 18 that intends to occupy the property.
Once this form is submitted, you will be forwarded to a link to begin your online application.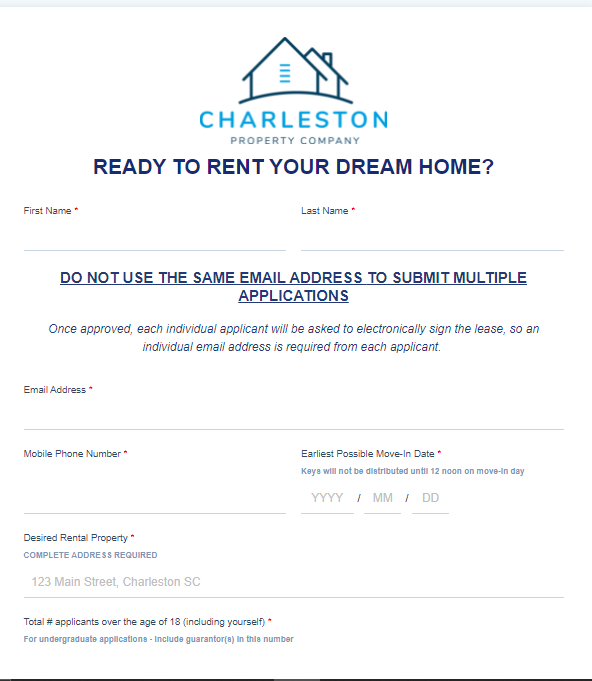 COMPLETING THE ONLINE APPLICATION
After submitting the initial form, you will be redirected to the Findigs platform to fill out your online application.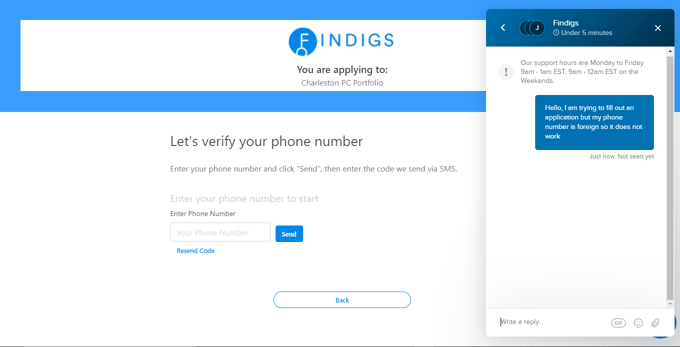 A phone number will be required to set up a username and password.
If you have any questions or experience any problems during this process, you can reach out to the Findigs support by clicking on the chatbot option at the bottom right-hand side of the Findigs page. Their live support staff can assist you step by step with how to submit the application in real-time.
Please do not use the same email address to submit multiple applications. Once approved, each individual applicant will be asked to electronically sign the lease, so an individual email address is required from each applicant.
Select the unit you are interested in applying for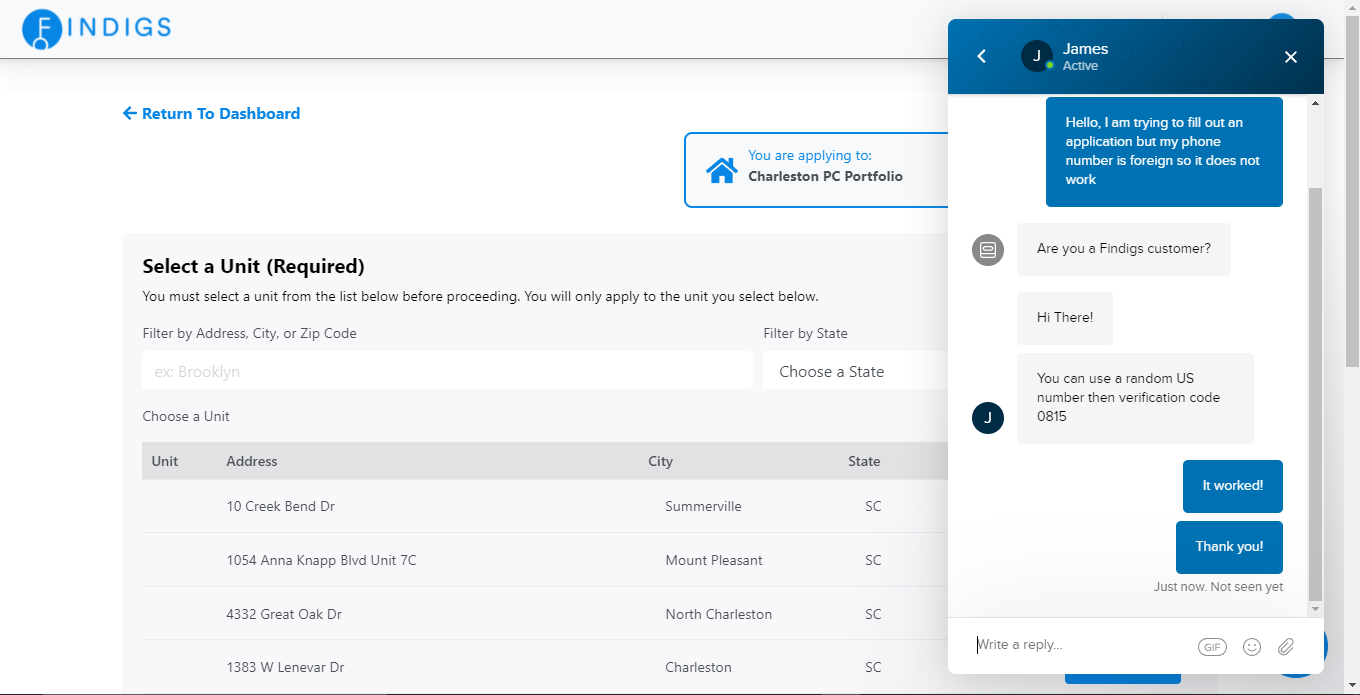 Once your unit has been selected, you will be directed to our application qualification requirements page.
Please be sure you read the qualification requirements carefully. You will need to confirm you have read this page before you can continue.
***Application fees are non-refundable once paid; no exceptions.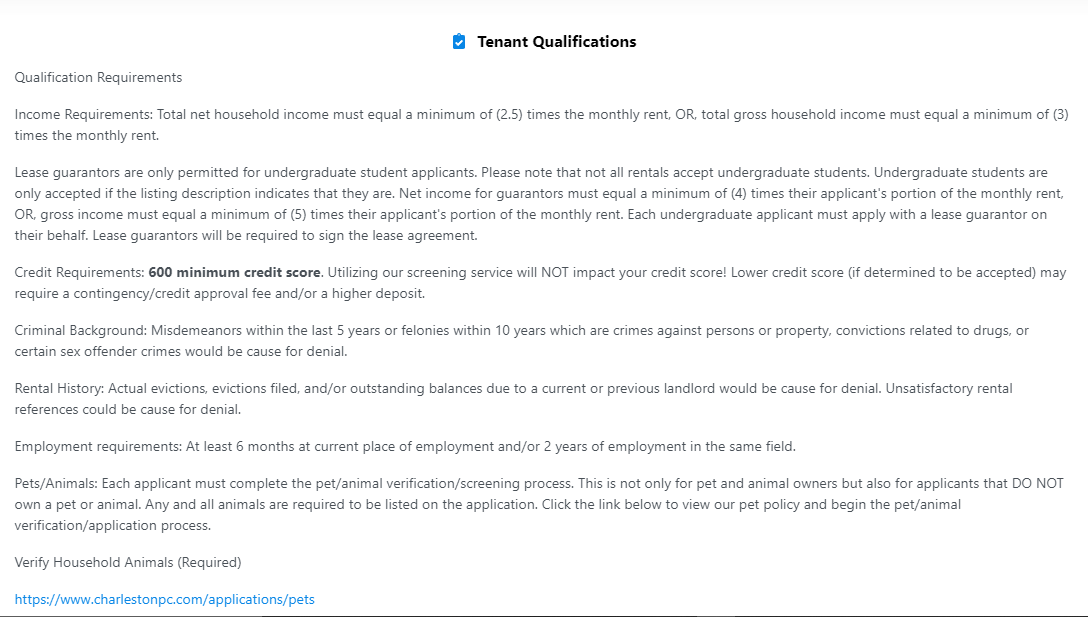 For the next step, you will be asked to enter all occupants' names and email addresses. If you are the only person applying for the property you can enter "0" and click on "save and continue"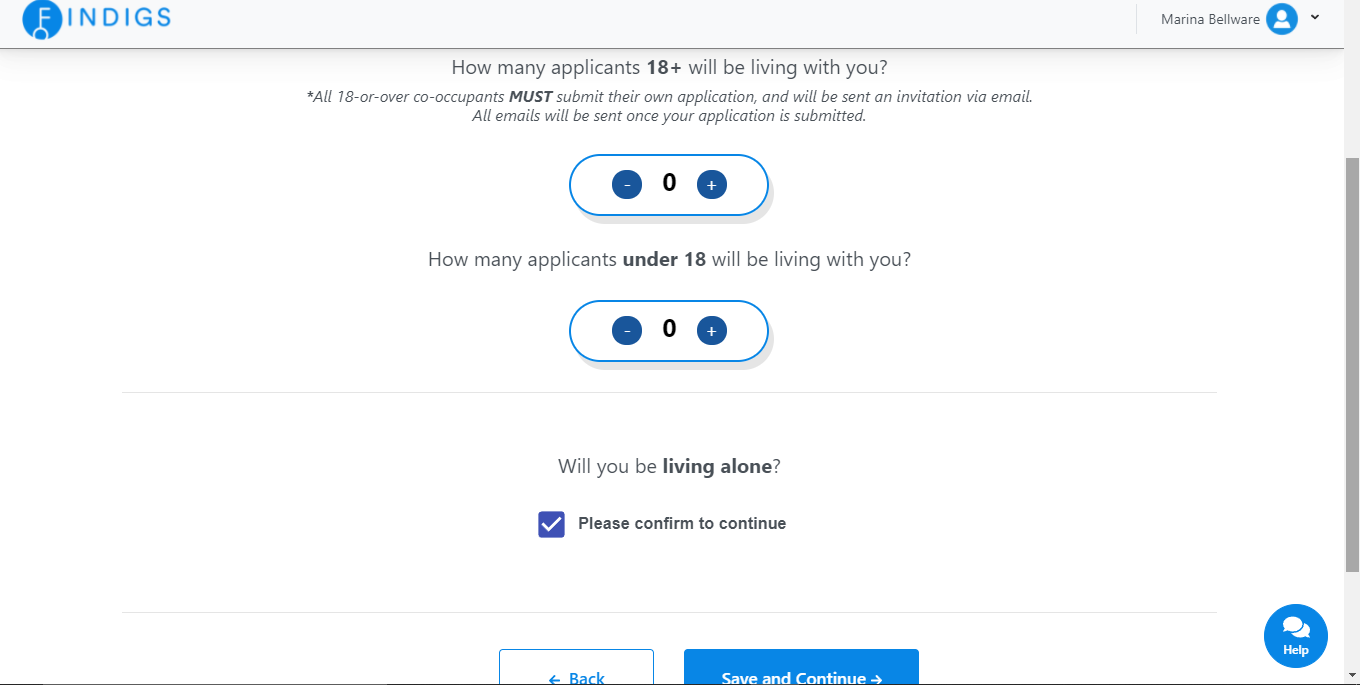 ID VERIFICATION PROCESS
After you enter your co-applicants' names and email addresses, you will be asked to verify your identity by providing a valid ID. Please click on "Start ID verification" to continue with the ID verification process.
You will have three options on how to submit your ID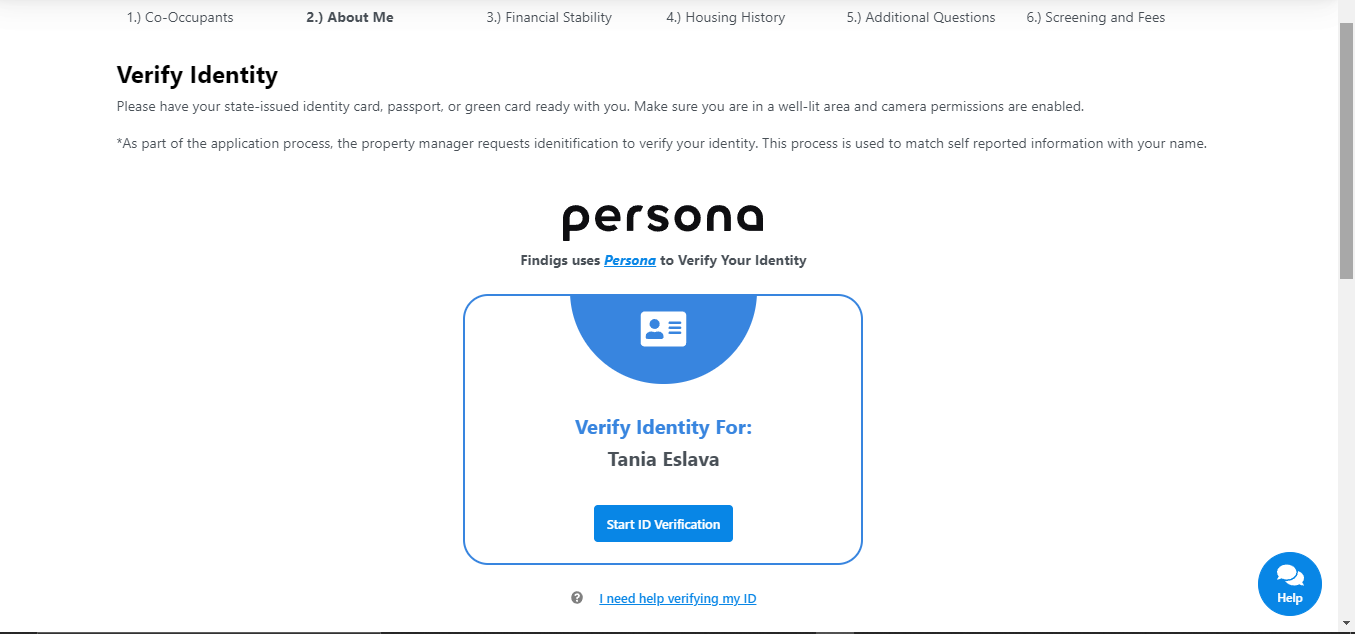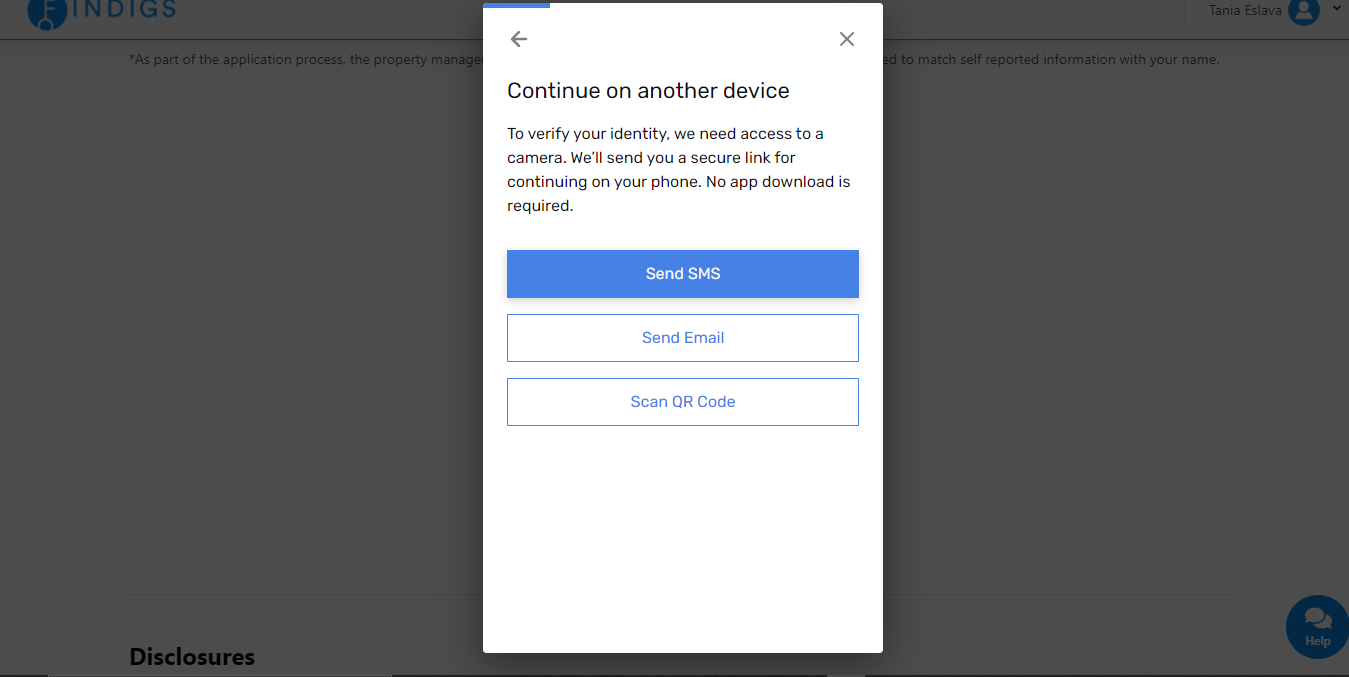 **Remember that if you have any issues during this process, you can always reach out to Findigs support for immediate assistance.
With the first option, you will be required to provide a cell phone number so you can take a picture of your ID with your phone.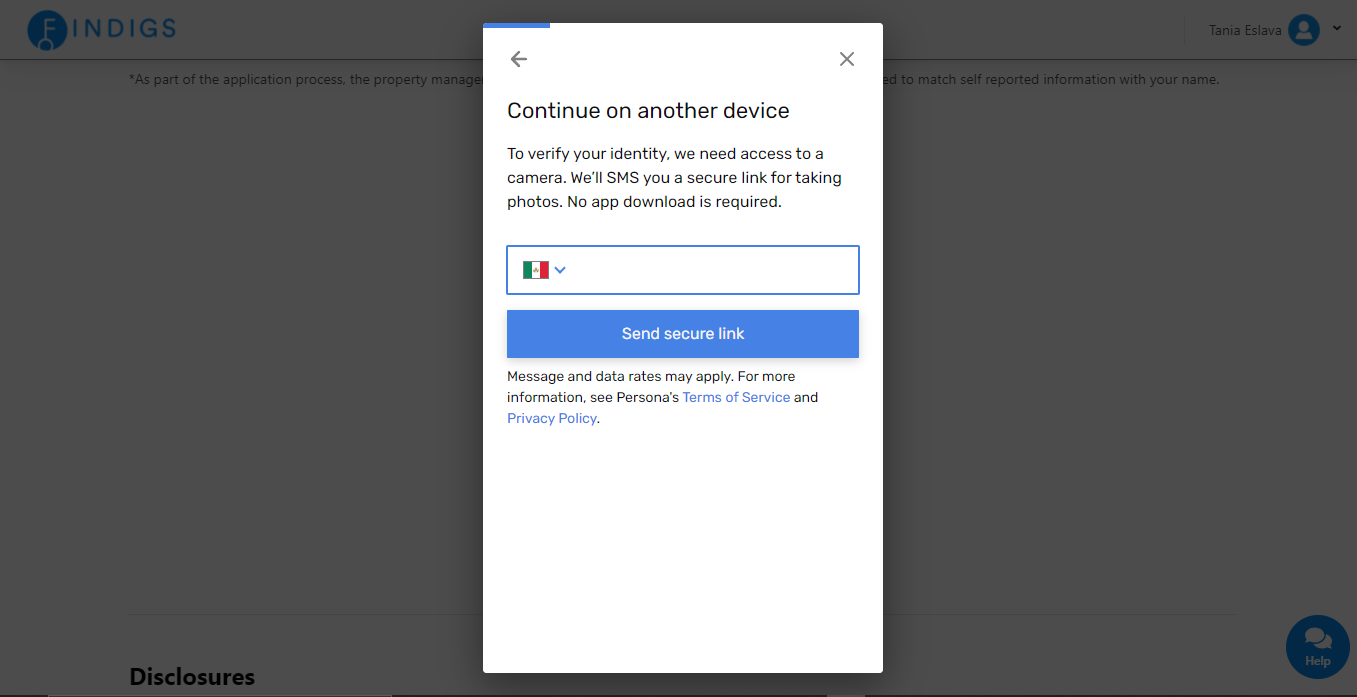 You can also have a link sent to your email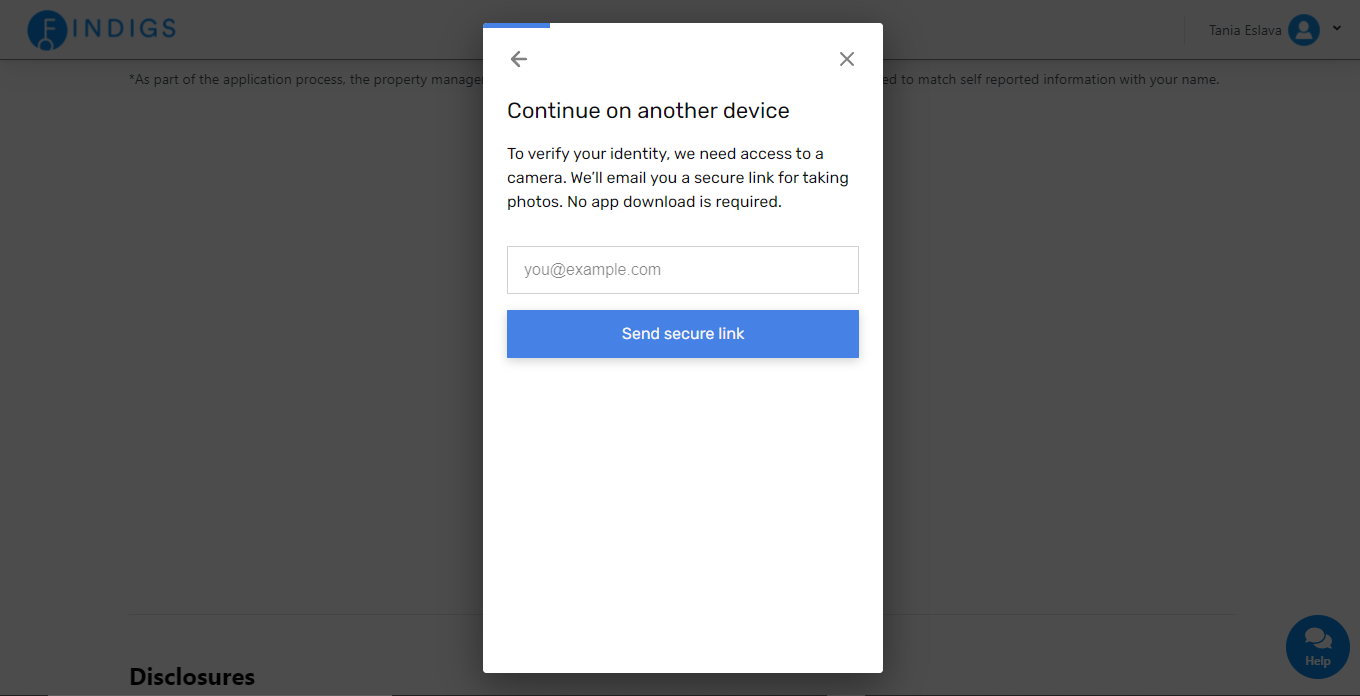 Alternately, if you would like to use a different phone, you will be asked scan this QR code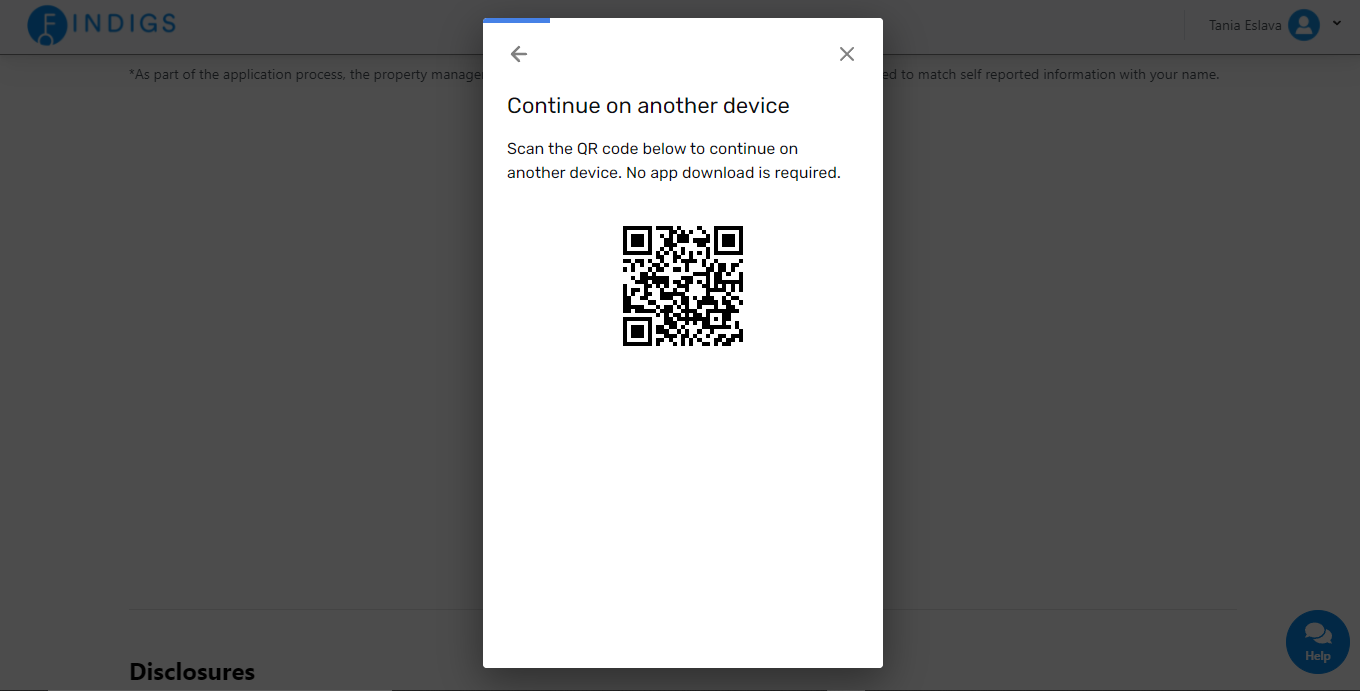 Please read through the disclosure section carefully before proceeding.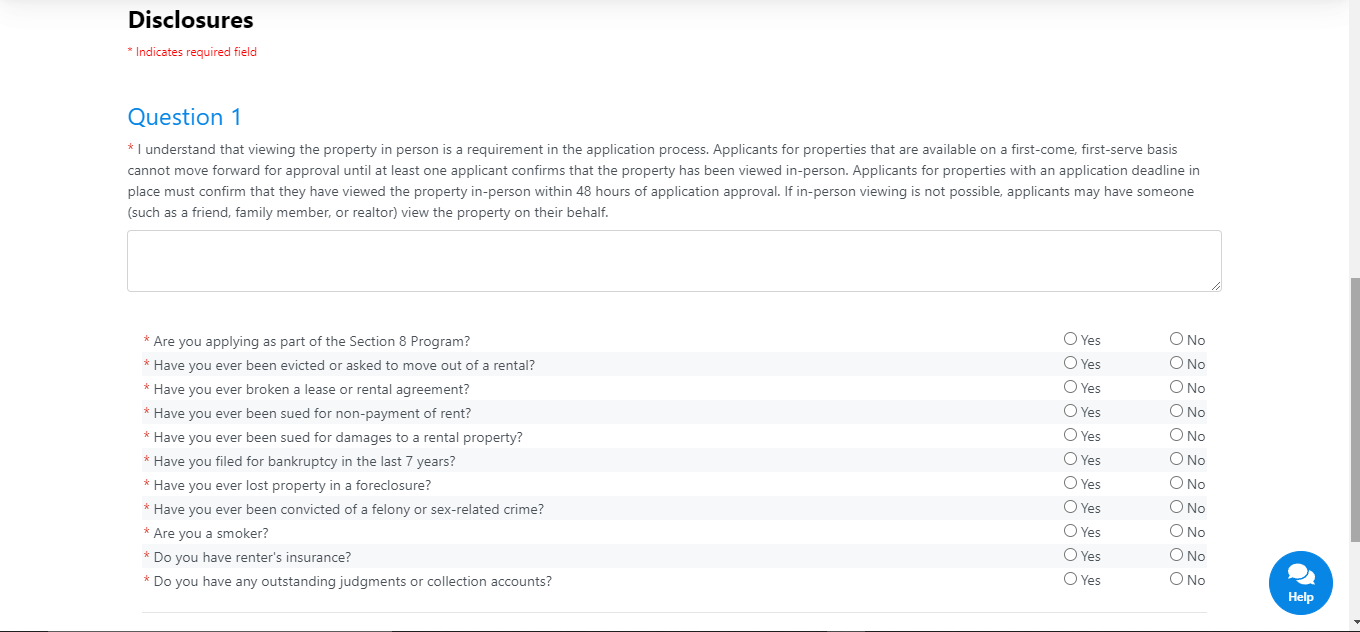 EMPLOYMENT AND INCOME INFORMATION
For the next stage in the application, you will be required to submit your employment history and current income.
The next step is to verify the current income amount you reported. You have the option to link your bank account or upload supporting documents.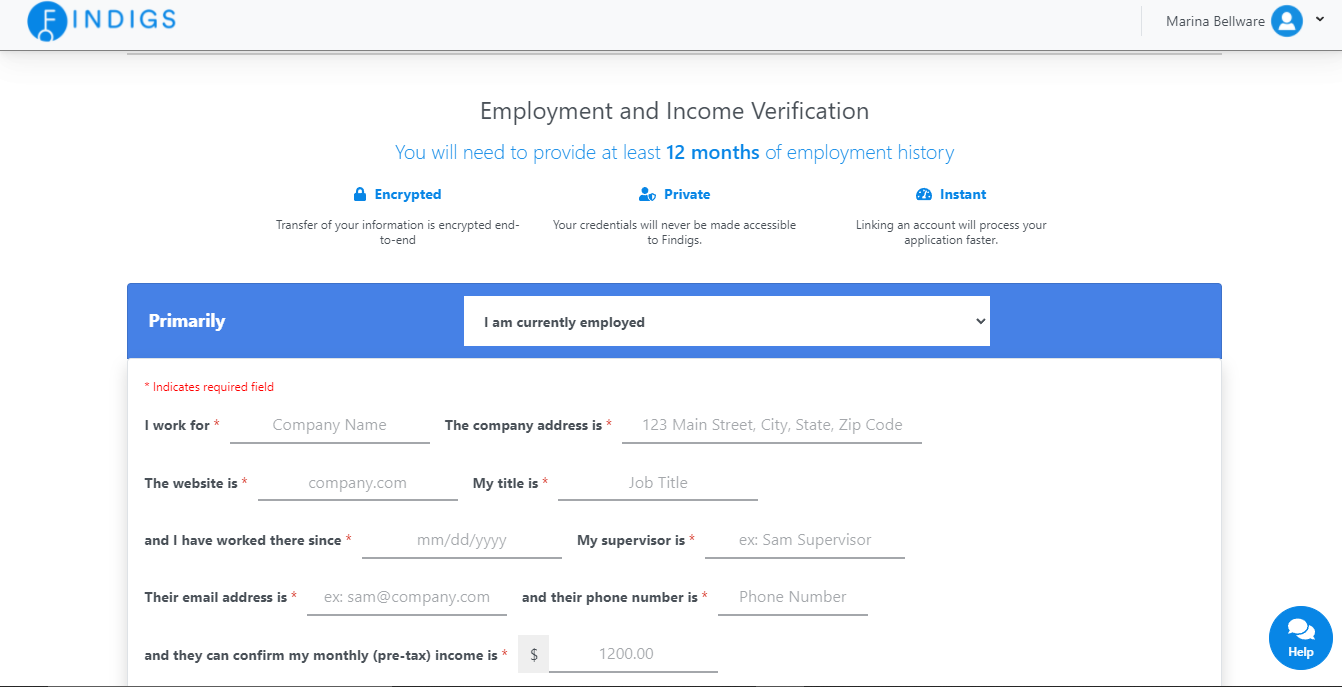 RECOMMENDED (FASTEST) - Verify income directly through your personal bank account or payroll provider with Plaid. For more information about Plaid, click here.
Advantages to linking your bank account or payroll provider:
Encrypted - Transfer of your information is encrypted end-to-end.
Private - Your credentials will never be made accessible to Findigs application software or to Charleston Property Company.
Instant - Linking your bank account will process your application faster.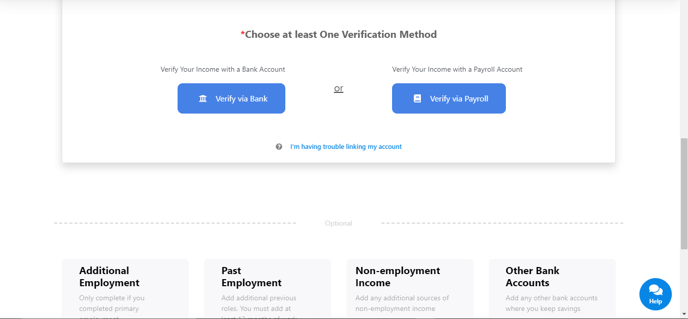 Linking your bank through plaid: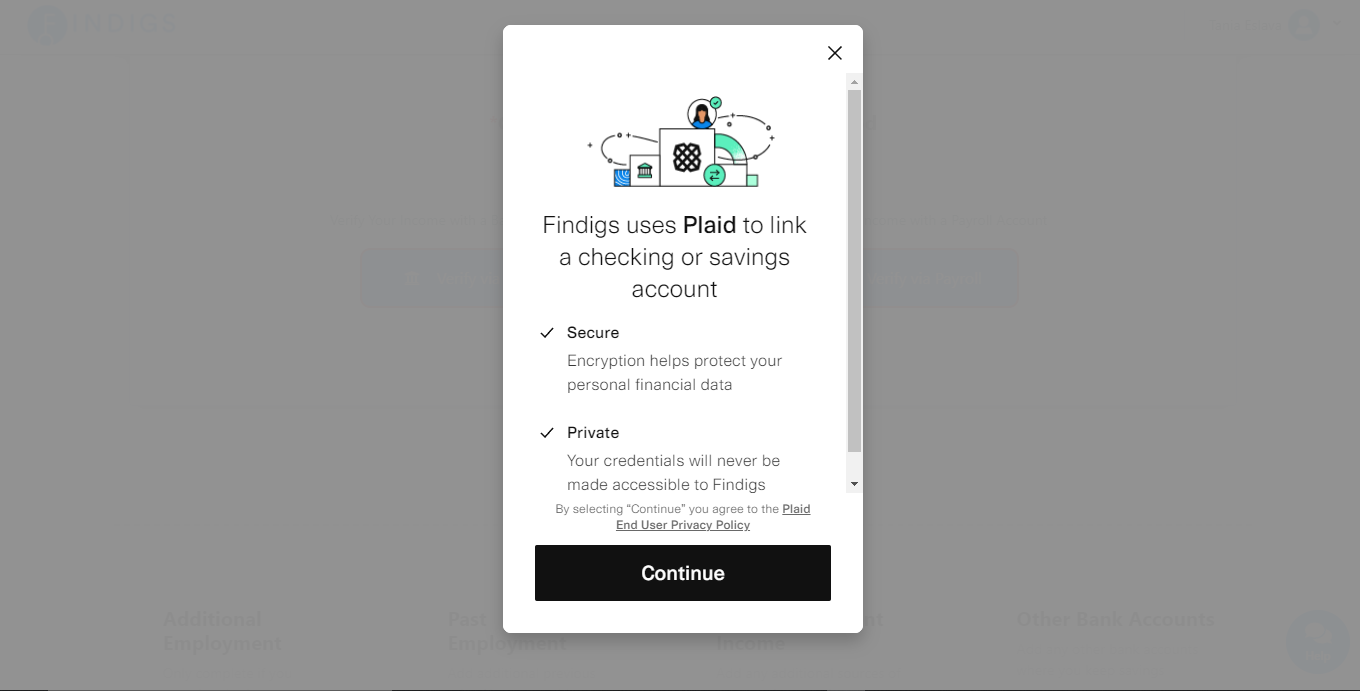 To link your account via payroll, you will be given a list to select your payroll provider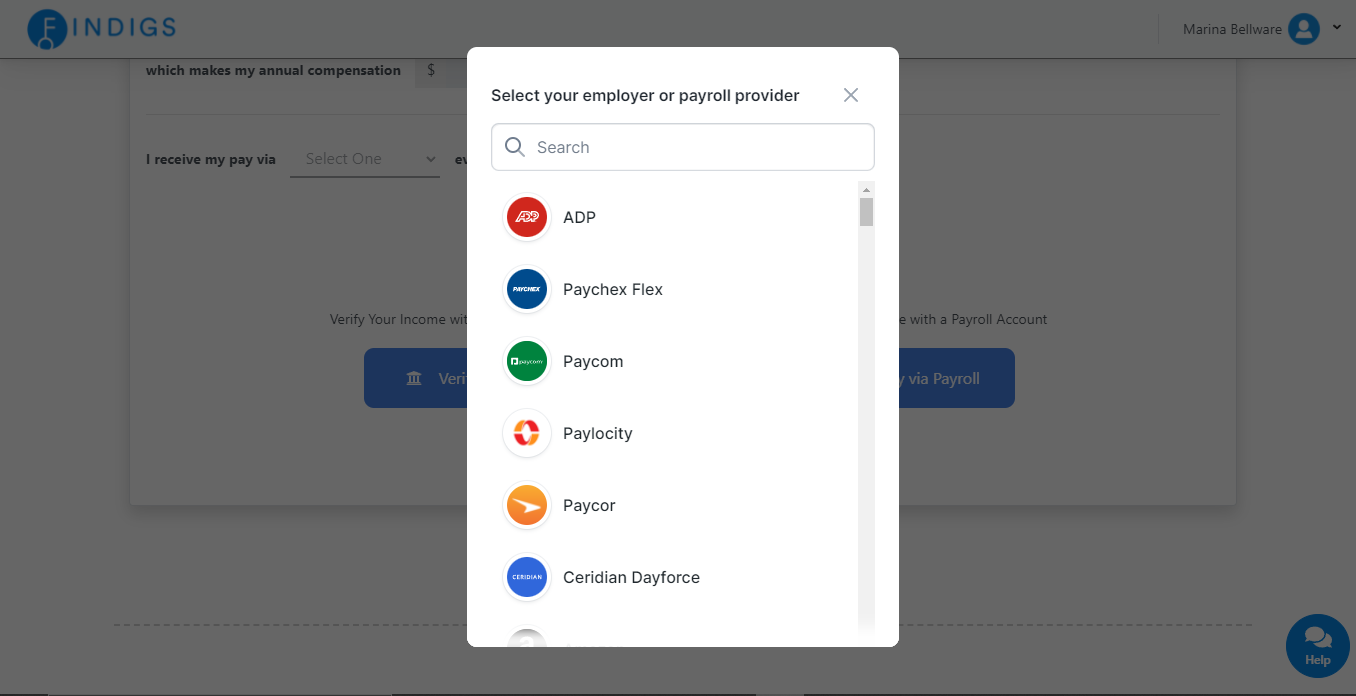 To forgo the bank link option, you can click on "
I'm having trouble linking my account"
and choose from one of the following options: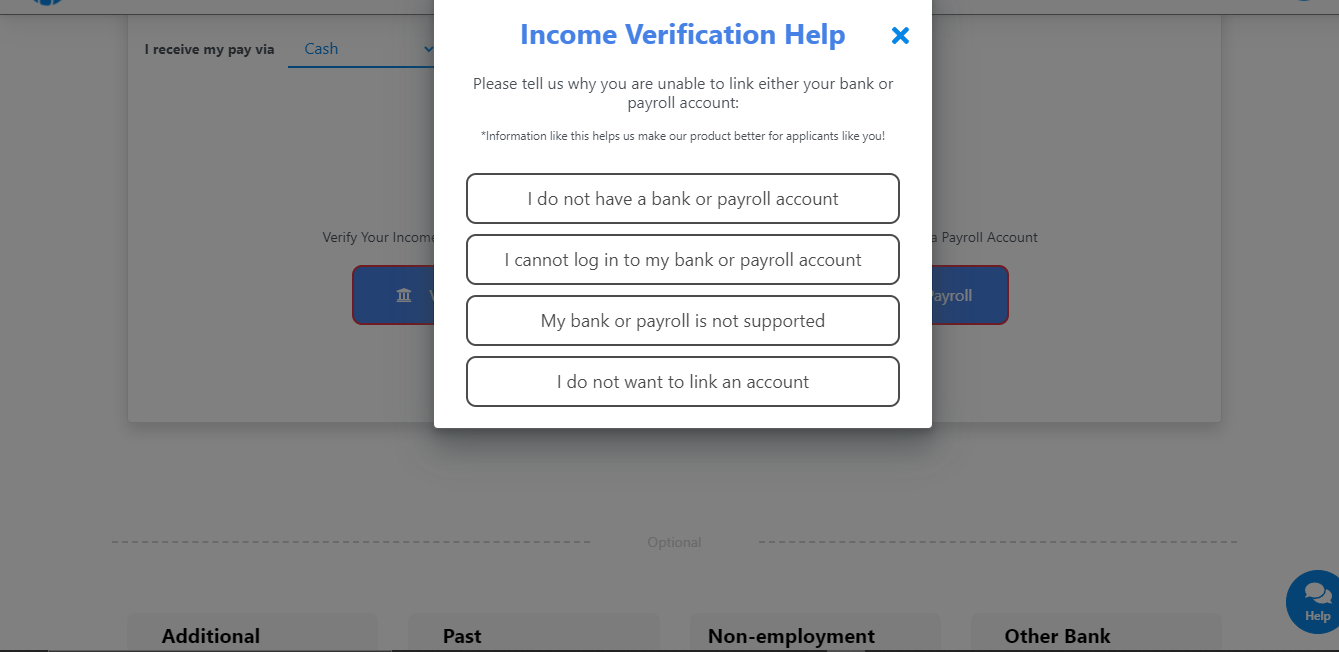 Please note that if you forgo the bank link option, the documentation that must be provided to prove your income is 60 days of the most recent pay stubs from your current place of employment or, the previous year's tax returns (only if self-employed).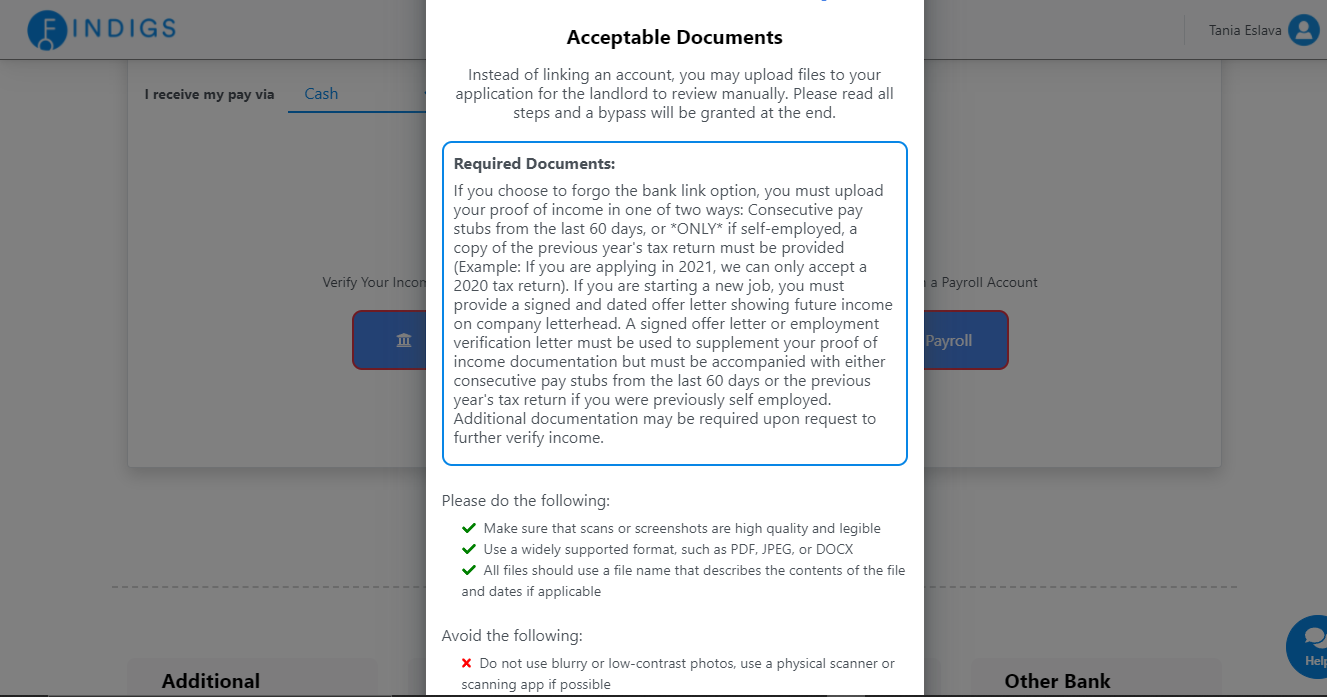 If you are starting a new job, you must provide an offer letter of employment on company letterhead accompanied by 60 days of the previous place of employment.
**Please note that we do not accept bank statements or any other source of unverifiable income
Make sure the documentation you attach, is legible.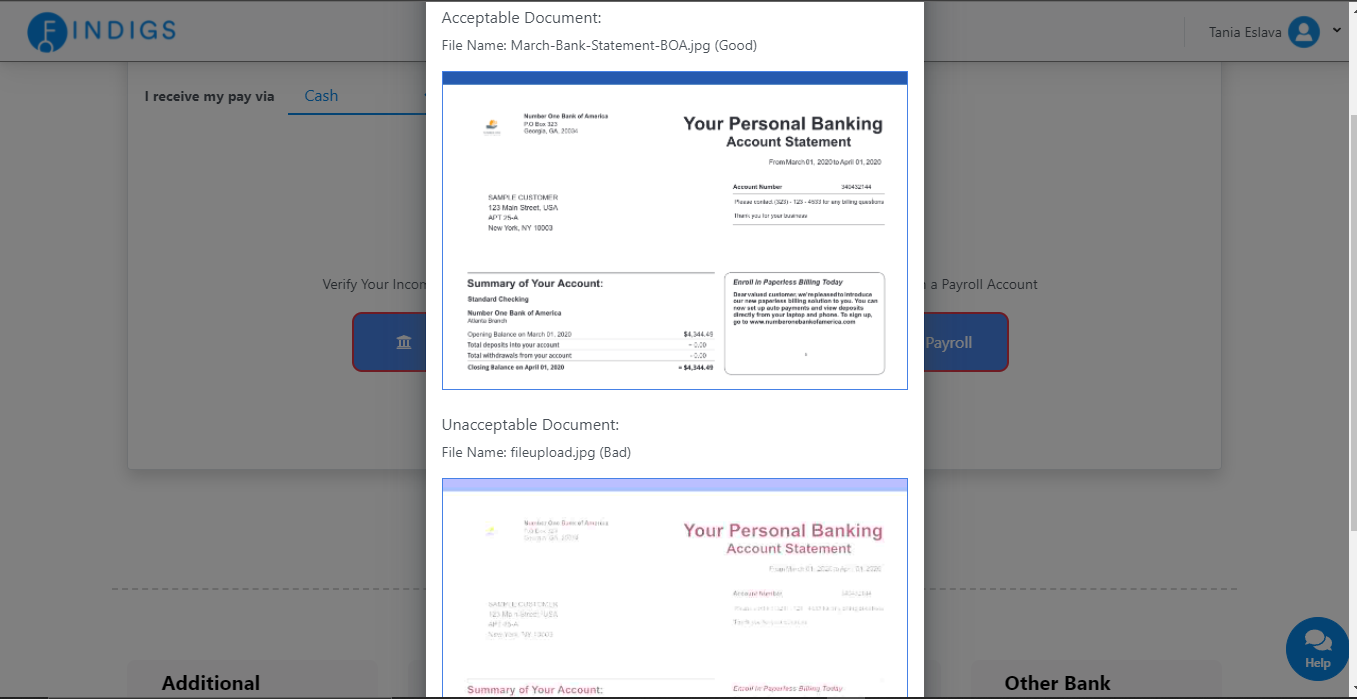 Please read the information in this section carefully and click on "Accept and upload documents".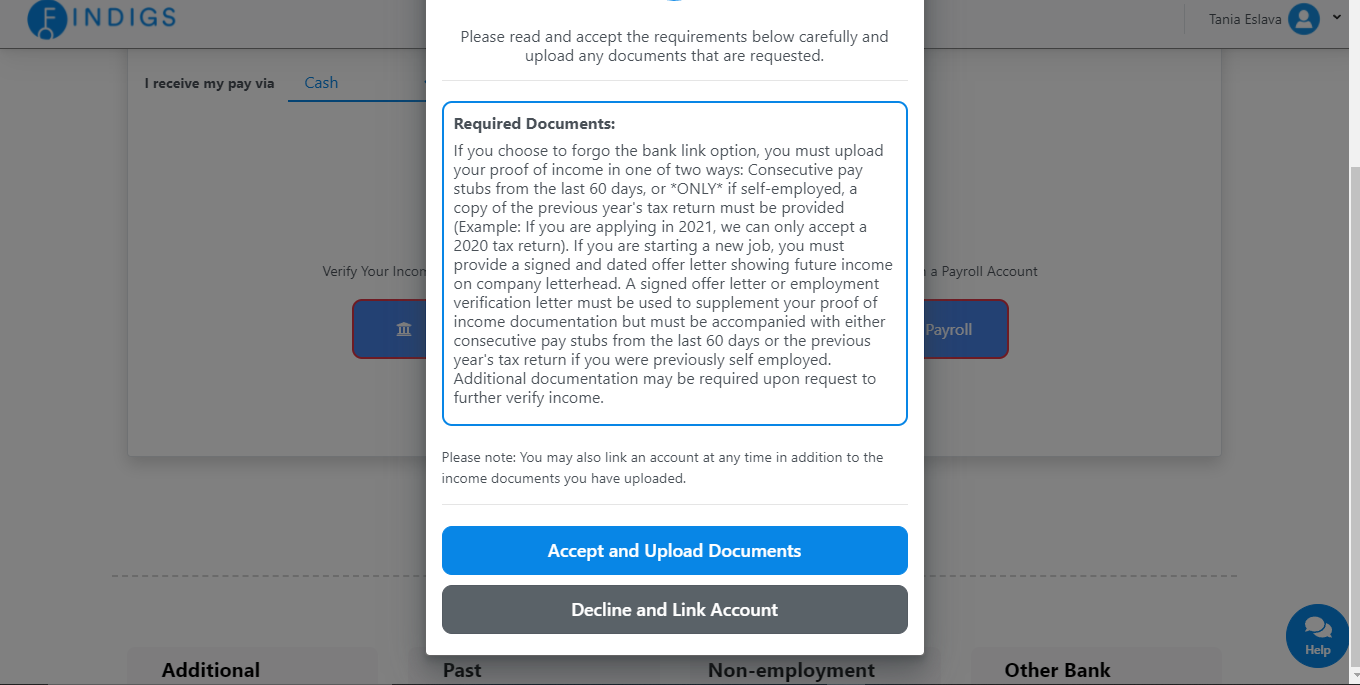 HOUSING HISTORY
If you are renting, please choose that option and fill out your current address and landlord's information
Please make sure you provide a valid email address for your landlord. A questionnaire will automatically be sent to your landlord to verify your housing history.
*****The completion of this form is a required step in the application process and can cause delays if not sent and completed in a timely manner.
If you don't have a rental history or you currently live with family, you will be asked to provide the address and duration of time you have lived at that address:
To add pets or additional information, you will have the following drop out options
Pets: Each applicant must complete the pet/animal verification/screening process. This is not only for pet and animal owners but also for applicants that DO NOT own a pet or animal. Any and all animals are required to be listed on the application.
Click this link to view our pet policy and begin the pet/animal verification/application process. More information on completing the pet application can be found at the bottom of this article.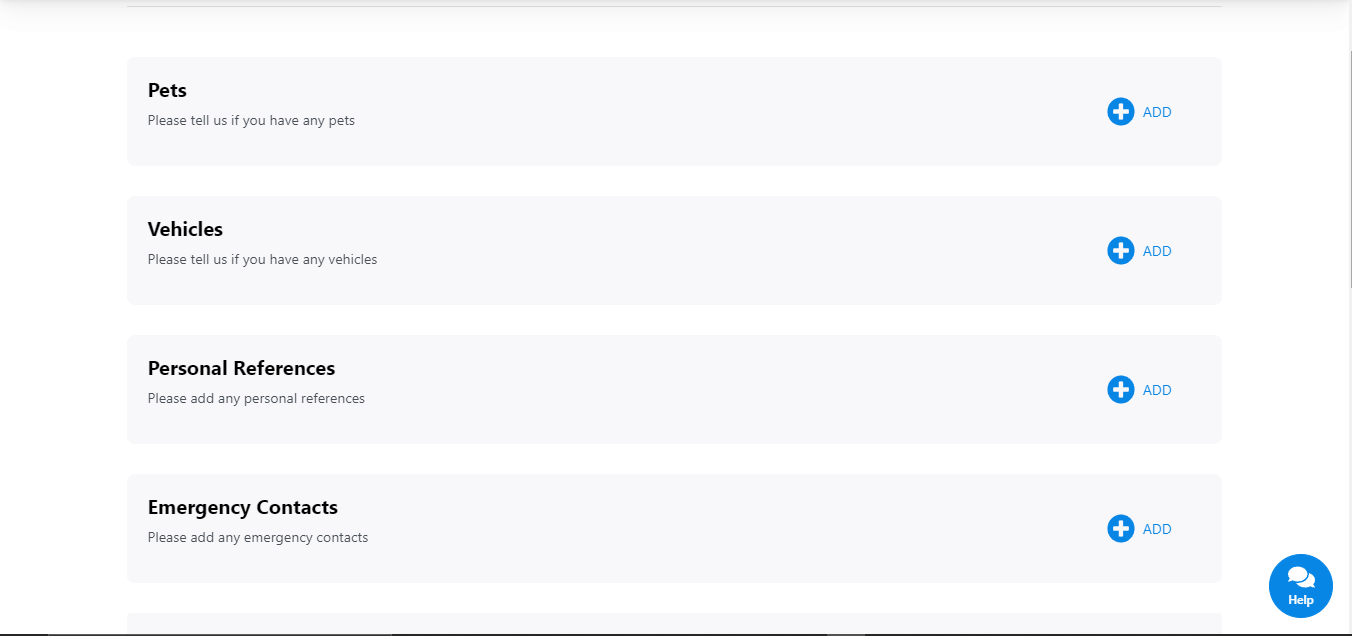 If you want to add any additional information or leave a note to the property management team, you may do so in this step: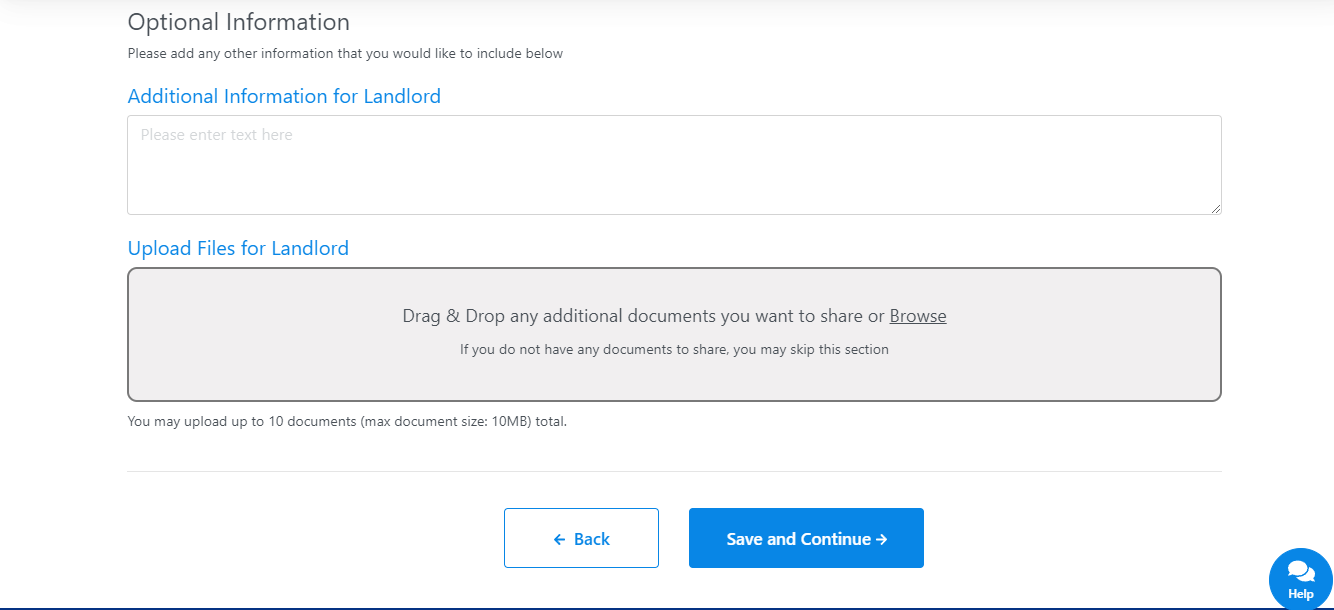 CREDIT CHECK, BACKGROUND CHECK, AND FEES
For the last step of the application process, you will be asked to submit your full legal name, Social Security Number, date of birth, and current address.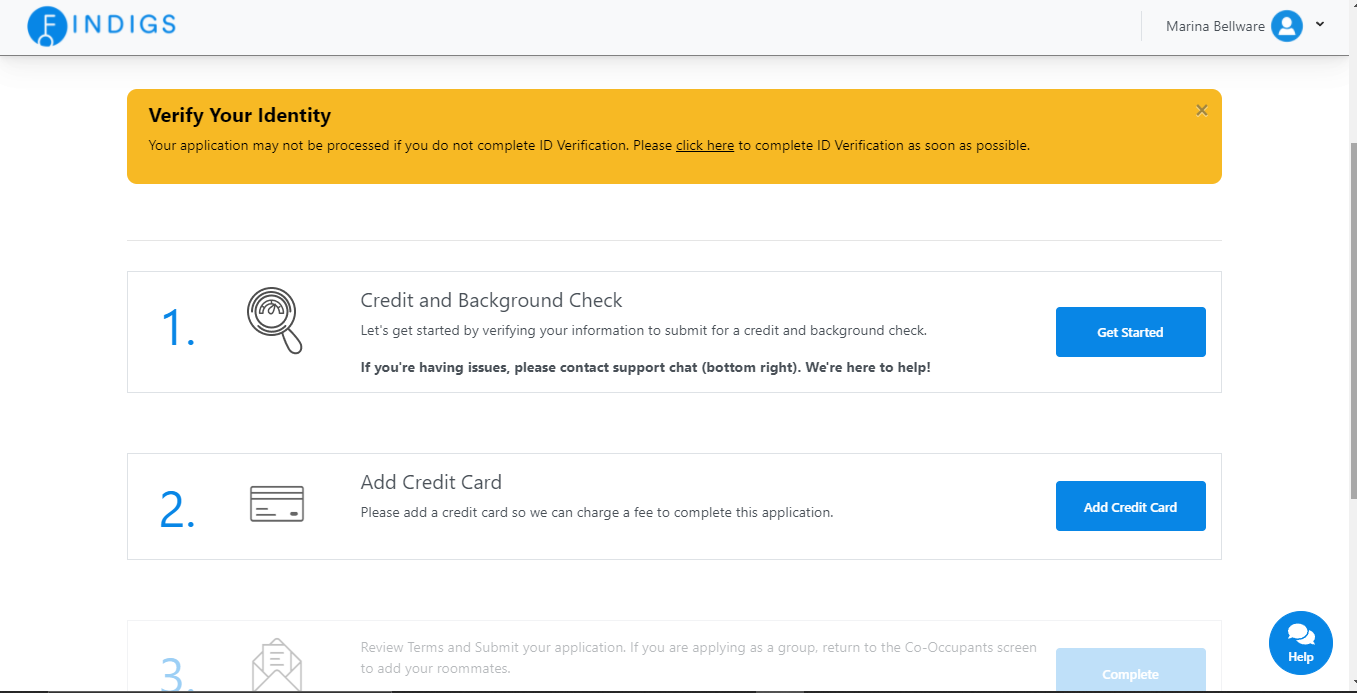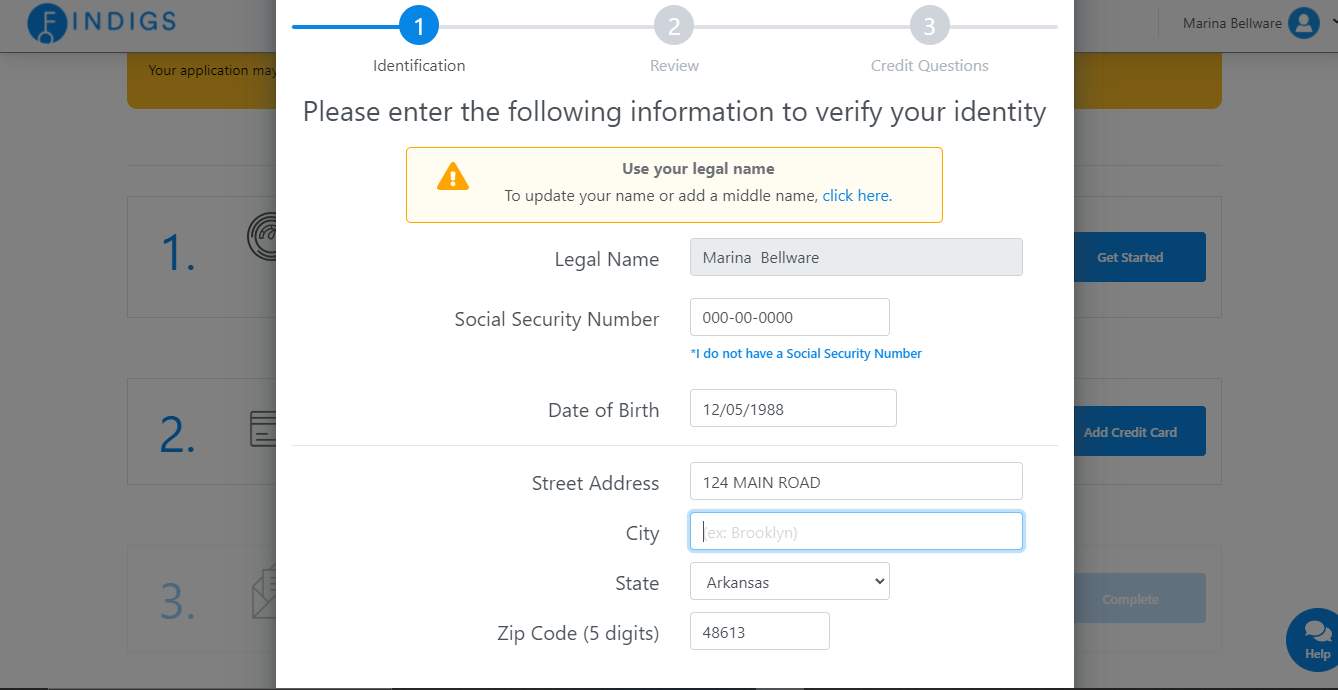 PET APPLICATION/VERIFICATION PROCESS
Please be sure to read the property's pet policy on the listing description and our company's pet policy before applying.
Charleston Property Company's Pet Policy & links to the pet application can be found HERE
It is important that you complete as many fields and enter as much documentation as possible on the pet application, as PetScreening's FIDO score is used to determine pet fees. Omitting information typically results in a lower FIDO score.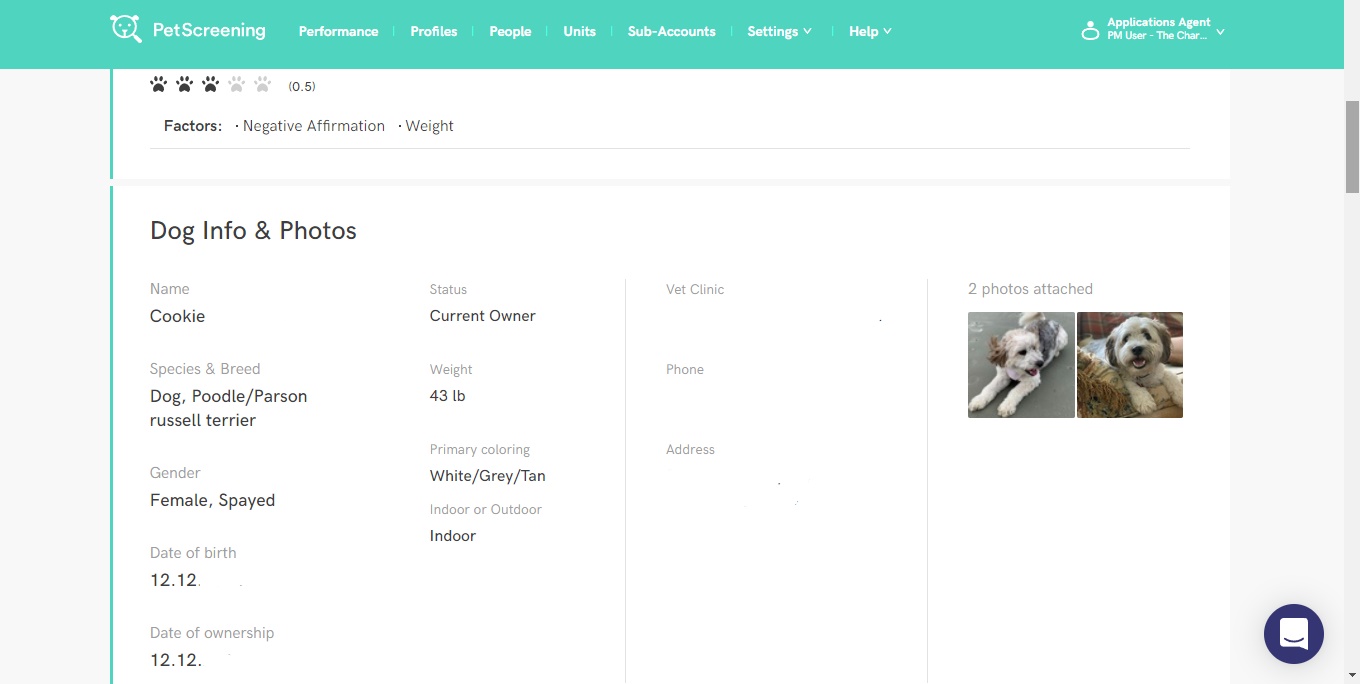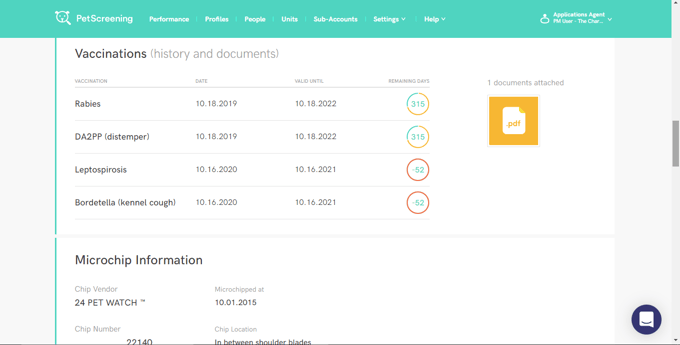 Submitting all requested documentation is an important step in the pet application process that may result in a higher score.