If you're eager to find a new renter for your empty Charleston, SC property, you still can't let a new resident move in until you handle a few critical tasks! The Makeready Process prepares your rental property for an eager new resident. It also sets the tone for the start of a beautiful, long-term working relationship with your new renter.
What goes into getting a Mount Pleasant or North Charleston property ready for listing?
You want to put your rental's best face forward, so the property needs a thorough cleaning and preparation process to capture your next renter's attention.
The Makeready Process is an investor's opportunity to make single-family homes and multi-family units like-new in anticipation of delighting a new resident.
It's also an excellent opportunity to take care of small updates or other lingering issues to get your South Carolina rental property camera-ready for your listing.
Property investors can perform an expert-level Makeready Process with the same techniques that expert Charleston property managers use! Check out our top tips for property preparation.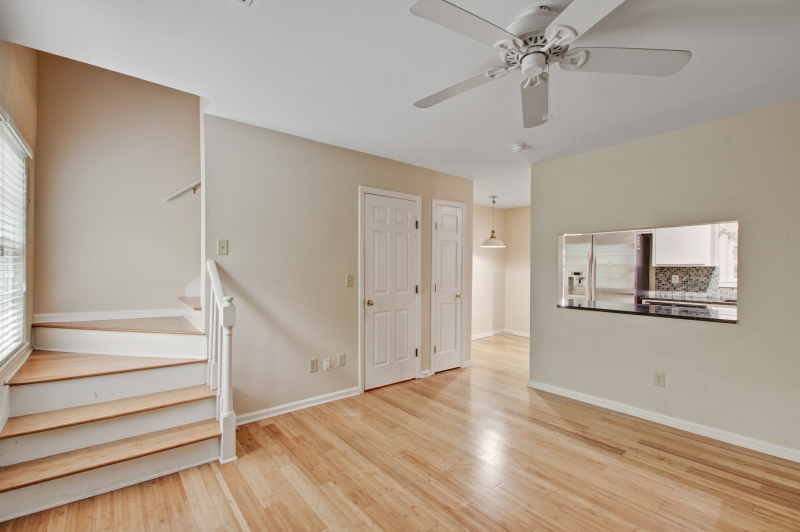 Take Care of the Big Stuff
Did your previous renters leave a wake of destruction behind after they moved out of your Johns Island rental property? We hope not—but even if your property is in decent condition after residents go, you might find some significant issues that need attention.
A vacant property is an ideal time to take care of significant issues before a new renter moves in. A thorough Makeready Process helps property owners check a rental from top to bottom, then make a list of anything that needs a repair. If you've known of an ongoing non-emergency issue (like foundation cracks or shifts), this might be the time to call an expert to assess the problem and fix it.
Here's what Charleston property managers note when we walk through a property:
Flooring: Is it time to replace the old carpet?
Appliances: How old are the dishwasher and stove?
Walls: Is there any significant damage to repair before painting?
Bathroom or kitchen fixtures: Did your former residents have ongoing issues with an aging toilet?
Plumbing and water heater: Does the water heater still work efficiently?
HVAC system: Will a tune-up be enough to keep it running well for new residents?
Roof: Does it need repair

—or replacement?
If any major items are near the end of their lifespan, the Makeready Process is an excellent time to replace them before new residents deal with problems from aging appliances or a water heater. Plus, new items are an excellent 'selling point' for potential renters!
With new updates or small upgrades completed during the Makeready Process for your North Charleston rental property, you might also be able to increase the rent—justified by shiny new amenities for residents.
Don't Overlook the Small Stuff
Starting with your list of big-ticket repairs or replacements helps take care of those items that take longer to complete. Remember, you want to minimize the downtime it takes to complete the Makeready Process to make sure your Mount Pleasant property doesn't sit vacant for too long.
Charleston property managers recommend starting on significant repairs sooner to help maximize the efforts toward making your property ready to relist.
Next, it's time to take care of the small stuff!
If you're keeping the carpet, make sure you have it thoroughly cleaned and disinfected.
Fill small cracks and holes in the walls, then repaint every room.
Repair cracked grout and caulking in bathrooms and kitchen.
Deep clean every surface throughout the home.
Replace window blinds.
Cut the grass, prune trees, and take care of the landscaping.
Make sure everything works!
From light switches to faucets, make sure everything throughout the property works and welcomes a new resident. When potential renters start responding to your listing, you want a picture-perfect place to display for showings—even if it's virtual!
Catch up on Prevention
If your Charleston property is due for seasonal preventive maintenance, take care of it during the Makeready Process. With routine maintenance out of the way, you won't need to bother new residents immediately after they move in with a scheduled maintenance task. Plus, you and your new residents know that the home is safe and ready for the upcoming season!
Set the Stage
Completing the Makeready Process means your property is ready for listing! Professional photos will show off every clean and resident-ready nook and cranny of your property. Combine the photos with a compelling property listing to attract the very best next residents for your property!
Property Management Services Get You Ready to List!
The Makeready Process probably sounds like a lot of work—it is! However, without the attention to detail and thorough repair, maintenance, and cleaning of this process, you risk longer vacancy times or residents who are unhappy while living in your property.
Property investors don't need to handle the Makeready Process on their own! A Charleston property management company does it for you! Charleston Property Company has the experience and expertise investors need to make quick (yet quality) work of getting your property ready to list.
Learn more about creating a professional property listing with our free Property Listing Checklist!