By Albert Fontenot
April 23, 2015
Curbside appeal is the most important factors in determining whether your rental home in Charleston sits empty or is continuously occupied. Potential tenants are looking for a place that they can call home, and if your property is unattractive, they will drive right on by without ever stopping to see what else the home has to offer.
One of the most dramatic ways to maximize the outside beauty of your rental home in Charleston is by planting, cultivating, and maintaining an attractive lawn and complementary landscaping.
If you pick the right plants and accents, you can give your rental home in Charleston a lush, luxurious feel – a touch that most disinterested landlords neglect.
Choose poorly, however, and you can create an eyesore that will actively repel high-quality tenants and perhaps even lower your property values.
Here are some tips that will help you maximize your green thumb and bring out your inner gardener.
Start with the Lawn
South Carolina is a hot and humid state, and your rental home in Charleston will need a grass that thrives in heat and can handle heavy foot traffic.
One of the most popular grasses for our climate is St. Augustine, also known as Charlestongrass.
This is a beautiful light-to-dark green turf that is ideal for your rental home in Charleston because it also has excellent tolerance for both salt – an important consideration here on the coast – and shade. In fact, Charlestongrass's shade tolerance is why it is recommended over Bermuda grass, which does very poorly under large trees. It also holds up well to normal residential use.
Charlestongrass is also a perfect choice when you want to quickly upgrade the outside appearance of your rental home in Charleston. It is easily sod-planted, and if watered carefully, it will provide an almost-instant lawn. As long as the weather stays above 60 degrees, the grass will stay green.
Think Locally
One of the biggest mistakes made by property owners looking to upgrade their landscaping is choosing trees, plants, and shrubbery that, while beautiful, are not native to the Charleston area.
Consequently, they end up with landscaping that fails to thrive properly and that never reaches its full potential. In fact, these foreign transplants become sickly, wither, and die far too often, and actively take away from the beauty that was the original goal.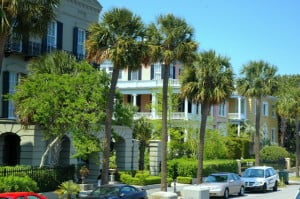 Trees Add Character
South Carolina is called the "Palmetto State", and the Palmetto Palm—the state's official tree—is a must-have when creating the landscape design for your high-end rental home in Charleston. Planted in the right location, it can help showcase the property.
Thanks to "Gone With the Wind", the Southern Live Oak draped in Spanish moss is one of the most iconic images of life in the South. Here on the coast, the Live Oak is an excellent choice, because it has great tolerance for salt, full sun, and even drought.
When considering the possible resale of your rental home of your rental home in Charleston, a well-cared-for Live Oak can give your property a premium boost in value.
For property owners who want to add iconic southern charm to their property but they don't want the hassle of transplanting and caring for a large tree, the Little Gem Magnolia only grows to half the size of its larger relative, the Southern Magnolia, making it a better fit near buildings and sidewalks.
Your rental home in Charleston will also benefit from the Little Gem's blooming season – it will bloom multiple times a year, while the Southern Magnolia blooms only once, during the Spring.
Flowers Add Beauty
When you are trying to maximize the exterior beauty of your rental home in Charleston, nothing does more to brighten up the entire property than the planting of fragrant, blossoming flowers. According to Southern Living, Charleston is known for five iconic flowers – Azaleas, Camelias, Gardenias, Crepe Myrtle, and Noisette Rose.
The history of these plants is inextricably linked with that of Charleston, and some of them have been cultivated in the area for over 250 years. Pick the right combination, and you can have colorful blossoms from early Spring until mid-Fall.
Shrubbery Brings Balance
When you pick the right evergreen shrubbery, you strike an ideal balance between the stateliness and character of the trees surrounding your rental home in Charleston and the delicate beauty of the flowers you have cultivated.
Indian Hawthorne is a low-growing evergreen flowering shrub that will produce pink or white flowers in the Spring and blue-black berries in the Fall. It is ideal for Charleston, because it is very tolerant of salt spray and sandy soil.
Hardscape for Easy Maintenance
After you have planted all the flowers, trees, and other plants that you want, you can emphasize all of that beauty with well-planned hardscaping. This refers to the sidewalks, edging, and patio area of your rental home in Charleston.
There are a number of choices when it comes to paving your sidewalks – from simple concrete to large paving tiles to various sizes and colors of river rock.
With proper planning, you can coordinate the elements of your edging around your flower beds, your sidewalks, and your patio by choosing stones and colors that complement each other.
Wherever possible, keep the surface areas as low and as flat as possible. This will allow the unimpeded use of a power mower and eliminate the need for edging by hand.
The idea of the patio is to create an enticing, comfortable space that potential renters can envision themselves using regularly. If you have properly designed the rest of your landscaping, your potential tenants should fall in love with the idea of spending time on a tastefully-appointed patio/leisure area.
Obviously, not every plant will be the right fit for every type of home. Some ideas work best only with higher-end properties, and if your rental home in Charleston is on the modest side, you may only need to concentrate on the lawn and the flower beds.
No matter what the size of your properties, paying attention to the landscaping as part of the overall exterior appearance will pay off with heightened interest from a better class of potential renters.