Part 2: The Pros and Cons of Siding
By Albert Fontenot
April 16, 2015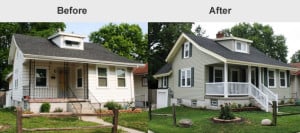 In the last blog, we discussed the pros and cons of painting your rental property in Charleston. Now, we're going to talk about the other option: installing siding. This is part of an ongoing series of entries discussing exterior rental property maintenance Charleston properties may need to boost curbside appeal, increase the value of the home, and help you as an independent landlord to attract responsible renters.
The question at hand is, 'Once you have decided to improve the exterior appearance of your rental property in Charleston, should you install siding or paint?'
Like painting, siding the exterior walls and trim of your rental property in Charleston can instantly transform a weather-beaten eyesore of that is regularly driven by with disdain into an attractive, modern house for renters who are looking for their next great place to live.
According to the 2015 Cost versus Value Report, approximately 82% of the cost of installing vinyl siding on your rental property in Charleston should be recouped should you ever re-sell the home. If you are thinking long-term, that added resale value is phenomenal.
The Project
Install premium grade vinyl siding on the exterior of a 2100 square-foot, gable-roofed, one-story house in Charleston's largest zip code, 29412. We will suppose that only high-quality supplies and materials are to be used, and that the home is in good physical repair and only needs cosmetic revitalization. The home will be of frame/brick construction and will have two door openings and ten windows.
As described, this rental property in Charleston will require siding on approximately 1500 square feet of vertical wall coverage, approximately 200 feet of soffit and fascia, and 12 trim packages for the openings.
Siding Pros
Maintenance-Free
The biggest advantage that vinyl siding offers over painting is a freedom from time-consuming maintenance, upkeep, and repainting chores. The chief reason to install siding is the fact that, if it is done properly, you will never have to paint your rental property in Charleston again.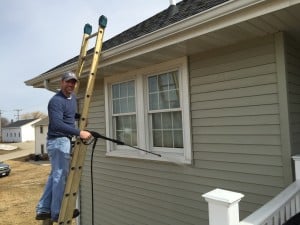 In fact, as a general rule, the only maintenance you will need to perform on the vinyl siding that you have installed on your rental property in Charleston is a periodic, once-or-twice-a-year cleaning. Most of the time, it will require nothing more than a hose with a spray nozzle, or occasionally, a soft brush with a mild cleanser.
Added Insulation (premium-grade with a form-fitted backer board) can significantly increase the energy-efficiency of your rental property in Charleston.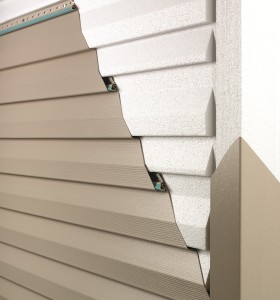 According to a guide released by the Vinyl Siding Institute, the proper application of premium-grade insulated vinyl siding can increase a home's U-value (a measure of heat flow) by as much as 17%, air tightness by as much as 24%, and decrease the amount of heating gas used by up to 11%,
What does this mean to YOU, a do-it-yourself independent landlord?
If you pay the utility bills for your rental property in Charleston, this can be of major benefit to you. Installing premium-grade siding with an insulated backer board clearly creates the opportunity for significant long-term energy savings. This type of project, then, can be viewed as an investment, rather than just a cosmetic makeover.
On the other hand, if your renters pay their own utility bills, you will be saving them money. Believe it or not, this can be an attractive incentive for retention purposes, if you highlight that fact during the application process. Another way of looking at this is the fact that the less money they have to spend elsewhere, the less likely it is that they will ever be late on your rent.
Warranties
Most siding manufacturers offer a lifetime limited warranty on their siding products, and under most cases that warranty is transferable should you ever sell your rental property Charleston. This means that for most hazards that could adversely affect the appearance of your siding, you will have coverage (hail, wind, chalking, and even "checkerboard" fading).
The fact that this warranty is transferable to a subsequent owner is your key to realizing your initial investment in added resale value, but only if you remember to inform the new buyer, and only if you keep your original paperwork.
Siding Cons
Initial Investment Costs
Make no mistake about it: Installing vinyl siding on your rental property in Charleston can mean putting out a significant investment.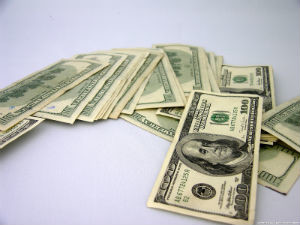 According to Homewyse, even if you do all of the work yourself, you will end up shelling out up to $5376 for materials and supplies to cover the vertical walls, plus approximately another $1000 to purchase the coil stock needed to trim the Windows and doors.
If you end up needing to hire a licensed and bonded contractor, you can add as much as $2663 in labor costs to the cost of the project, making the grand total as high as $9039.
If you plan on owning this particular rental property in Charleston for a number of years, that expense becomes much easier to swallow when you realize that it is a one-time purchase.
However, if you believe that you will only on the home for a few years, it might be a better idea to paint it, rather than install siding.
Skill Level Required
While installing vinyl siding on your rental property in Charleston doesn't necessarily require any special skills or training, it is an exacting task that requires extreme attention to detail and a meticulous approach.
The stakes are higher when you install siding. If you botch a paint job, usually the only thing you have is an unattractive home. If you install vinyl siding improperly, you can actually damage your home, primarily through trapped rainwater and moisture. It is not installed correctly, siding can actually damage your home in several ways – mold, flooding, water damage to sheet rock, and wood rot.
Also, if you are not able to prove that you followed the manufacturer's installations instructions to the letter, then you might be in danger of voiding your warranty.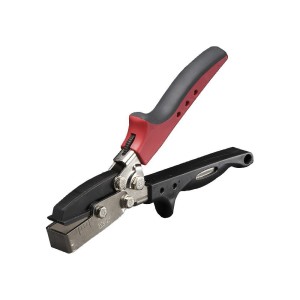 You will need more tools to properly install siding then you would to paint your rental property, including both hand and power saws, a hammer, nail gun, a rubber mallet, and specialty items like a zip tool and a snap-lock punch. You will also need tools to bend the aluminum coil stock into the proper shape to fit around the window and door openings.
When installing siding on your rental property in Charleston, you have to think in three dimensions, meaning how every paintable surface needs to be covered, and more importantly, how each of those pieces needs to fit together.
Your home is just more than vertical walls, so you will also need to purchase incidental siding products to cover the soffit and fascia, lintel beams, porch ceilings, and corner pieces.
Time-Consuming
Professional siding installers are experienced enough to have worked on every type of home, including yours. In most cases, they will be able to finish installing vinyl siding on your rental property in Charleston in approximately a week.
YOU, however, are NOT a professional siding installer. You are an independent landlord who likes to do things yourself because you are pretty handy and because it saves you money.
For a simple home with an uncomplicated footprint, you will spend, on average, over 117 hours just installing vinyl siding on your rental property in Charleston. This does not include trips to and from the building supply store, removing old existing siding, or disposing of the project-related debris.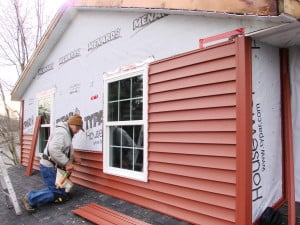 If your home is multi-level, you can easily spend up to 175 hours dedicated to this one maintenance task. To put that in perspective, that is eight hours a day, seven days a week, for just over three weeks.
A Permanent Solution May Not Be Ideal
Once you have installed vinyl siding on your rental property in Charleston, you are, for all intents and purposes, locked into that color forever. This means that the color that you choose is of absolutely critical importance. You have to judge the proper color for the neighborhood as it is now, but you also have to try to envision years, or even decades down the line.
On the one hand, improvements in manufacturing technology mean that there are more custom color choices available to siding consumers than ever before. On the other hand, if you are looking at this from the standpoint of attracting potential tenants and future buyers, you may need to opt for more traditional, "safe" colors than you might otherwise choose if you were going to live in the home.
So what's the verdict–painting or siding?
Like any other home improvement, renovation, or remodeling project, the ultimate answer is going to depend on you–your budget, your timetable, your plans for the home, and your skill level and comfort as a do-it-yourself independent property owner.
That said, if you need expert insight from Charleston property managers on which of these options will best benefit your portfolio based on the above factors, you can always get in touch with us!