December 23, 2014
by Albert Fontenot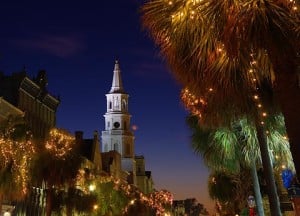 The holiday season is upon us here in Charleston. Maybe you went to James Island County Park to see the 25th Annual Holiday Festival of lights, or maybe you went to the Historic Market District for one of the famous Charleston Stroll walking tours of these great old private neighborhoods, all dressed up in their holiday best.
If you're lucky, maybe your tenants have gotten you a nice card, or God forbid… a fruitcake. Oh well, they say that is the thought that counts…
With that sentiment in mind, perhaps now is the time to think about the gifts that you should get yourself to make your life as a do-it-yourself landlord a little bit simpler. These are the things that you should have readily at your disposal that will enable you to meet the challenges that can arise during the rest of the year.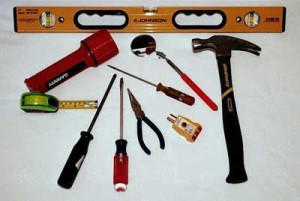 You need a basic toolkit.
Most tenants have never owned their own home, so many of them are woefully unprepared to handle any sort of repair, even a minor one. Most basic home repairs can be done with a simple kit containing just a few tools.
With just the tools listed below, you can change a lock, uninstall/reinstall a door, install light fixtures, correct minor plumbing issues, and many other maintenance or repair tasks.
Your toolkit inventory – a claw hammer, screwdrivers (both standard and Phillips-head), wrenches (crescent, pipe, socket, and Allen), pliers, measuring tape, utility knife, power drill, plunger, bolt cutters, duct tape, and WD-40.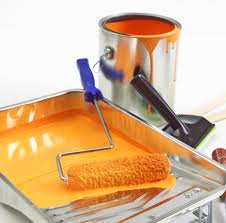 You need painting supplies.
Every time someone moves out, and periodically for your longer-term tenants, you should always take the time to repaint your property as part of the make-ready process. To save time and money, you should have a "standard" color that you use repeatedly at all of your properties. Having this on hand will let you do touchups when needed or bigger jobs in between tenants.
As a do-it-yourselfer, it is very much worth your time to handle the repainting job yourself, rather than hiring an outside contractor. Doing it the right way will definitely take some time – scraping, sanding, spray washing, re-caulking, rotten wood replacement, primer, first coat, and second coat. Depending upon how large your property is and how many properties you own, doing it yourself can literally save you hundreds or even thousands of dollars.
Your painting supplies inventory – besides the paint itself, you will need quality drop cloths, painting edgers, brushes, and rollers. If you have a multi-unit property, it might be a good idea to invest in a paint sprayer. If the outside of your property is not covered with siding and also needs to be painted, you might also need to purchase a ladder or scaffolding.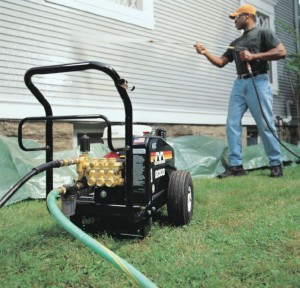 You need a pressure washer.
Over time, the outside areas of your rental property – decks, sidewalks, driveways, fencing, and siding – can become stained or moldy. Obviously, this makes your property look run-down, and decreased curb appeal can affect tenant turnover and the length of vacancy.
These areas should be cleaned at least once a year, and depending on where you live in Charleston, perhaps even more often. For example, your property may be more susceptible to mold if it's near the harbor; or, perhaps your property has a lot of trees on it that can drop debris and sap onto the driveway or walkways.
Hiring an outside professional can cost several hundred dollars per job. If you buy your own pressure washer, you can use that same machine on all of your properties for years to come.
Your pressure washer inventory – because this is something that you will end up using on a regular basis, you will want to purchase a good-quality machine. In addition, you will need an assortment of spray nozzles/wands, long heavy-duty hoses, solvents to remove stains, and specialty cleansers that will not harm the finish on your siding panels.
That last one bears repeating – if you have siding on your rental property, always review the Manufacturer's Warranty to make sure that you do not void your coverage by cleaning the siding improperly. That protection can be worth tens of thousands of dollars.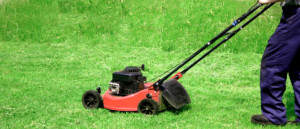 You need landscaping tools.
Once again, if the lawn and landscaping of your rental property is not kept up, it can take away from the curbside appeal. Even worse, unchecked plant growth can damage several areas of your property – sidewalks, water lines, gutters, roofs, and power lines, just to name a few.
Many landlords hire a regular landscaping service to handle these chores, but if you are a do-it-yourselfer with a keen eye on the bottom-line, the monthly fees that you pay to a service can quickly add up to the purchase price of all the equipment you will ever need.
Some landlords have it written into the lease that it is the responsibility of the renter to maintain the lawn and landscape. That helps a little, but you have to take into account that a renter will only do the barest minimum. Also, the lawn will still need maintenance when the property is vacant.
Your lawn & landscaping inventory – lawn mower (depending upon the size of your property, you will need a riding mower or a push mower, and sometimes both), weedeater, edger, hedge trimmers, clippers, a lawn rake, a shovel, pruners, a saw, and a hoe.
Bear in mind that your lawn will need regular care – fertilizer, water, pesticides, and occasionally, new seed. It is best to set up a regular maintenance schedule for these tasks.
To save time, some landlords invest in a sprinkler irrigation system. If you decide to go this route, make sure that you perform the required winterization tasks every year. If you fail to do so, the water lines could burst and cause major damage to the property.
You need a sense of organization.
This is the one thing on this list that you don't exactly purchase, except by making an investment in time and discipline. The thankless job of a do-it-yourself landlord here in Charleston requires that you always stay diligent and attentive to the maintenance and repair needs of your properties.
If you take the time to create a schedule and then adhere to that schedule, you will find that over time, all of your chores become like second nature. More importantly, you both keep your tenants happy and protect your largest investment.