Part 1: The Pros and Cons of Painting
By Albert Fontenot
April 13, 2015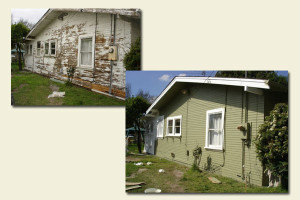 Now that Spring is here, your thoughts should be turning to exterior maintenance and renovation tasks for your rental property in Charleston. Over the next few weeks, we will be discussing popular projects that can greatly increase the curbside appeal of the property, allowing you to attract the highest caliber of tenants and helping to improve the value of the home.
Updating the exterior walls and trim of your rental property in Charleston can provide one of the most dramatic facelifts you could possibly hope for. An old, drab, worn-out house can be quickly transformed into a vibrantly-updated property sure to catch the eyes of potential renters, all with a few gallons of fresh paint or new siding.
Therein lies the difficult decision – should you repaint or put siding on your rental property in Charleston?
Obviously, the answer will depend upon you-- your plans for the property, your budget, and your own personal abilities as a do-it-yourself landlord.
For comparison purposes, we are going to propose a project that will paint or side a 2100 square-foot, one-story house in Charleston's largest zip code, 29412. We will suppose that only high-quality supplies and materials are to be used, and that the home is in good physical repair and only needs cosmetic revitalization.
One caveat: As with any home maintenance or improvement project, there are always cheaper ways to do something, usually by cutting corners or by using low-quality supplies. The figures quoted are from recognized industry experts and reflect the cost to do the job right the first time.
Each choice has its own distinct advantages and disadvantages, so let's look at painting first:
Painting:
Pros: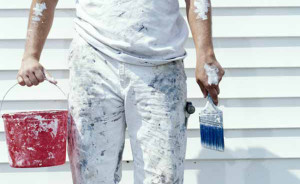 Cost—By far, the biggest reason to paint your rental property in Charleston instead of installing siding is the cost of initial investment. Painting a home costs a fraction of siding it, especially if you are doing it yourself. According to homeadvisor.com, it costs $4500 on average to paint a home in Charleston, with most owners paying between $2725 and $6000. We'll go into greater detail about costs in a moment.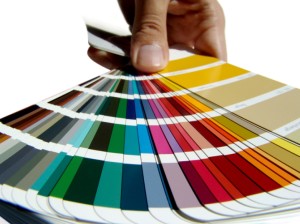 Color Options—Exterior house paint is literally available in any color you can think of. There are several dozen standard colors from which to choose, and custom color mixing is available. Even better, painting gives you the flexibility to change things up and vary the color from time to time.
There is almost no limit to the color combinations and techniques you can use to highlight the various attractive features and details of your rental property in Charleston and make it stand out from other homes.
This advantage is tempered somewhat, however, because it is probably not a good idea to go with color choices that are too outlandish or gaudy. You want to avoid colors that might invoke strong negative opinions and alienate some potential renters.
After all, you may have always wanted to own a pink-and-purple house, but that would probably scare away a lot of tenants.
At the same time, going too conservative can be boring and nondescript. Avoid painting everything "landlord white" just for the sake of convenience. The psychology of color can give clues as to which colors might project the right impression.
Skill Level—Although it can be labor-intensive and time-consuming, painting a home does not require a high degree of maintenance skill to complete. If the proper steps are taken, moderately-capable do-it-yourself landlords should be able to consistently achieve good results, especially if they have kept up with touch-up maintenance.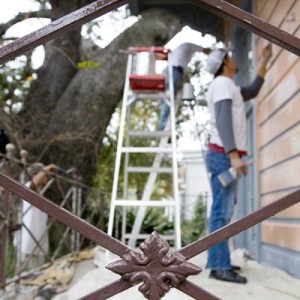 Convenience—Painting can be done in stages, according to your schedule, without having to worry about damage. If you are an independent landlord with more than one rental property in Charleston, you don't need to be "locked in" to a project if one of your other properties demands your attention.
Flexibility—Public tastes change constantly, and this year's hottest popular color might seem dated in just a few years. Also, if too many other homes in the neighborhood are using a similar color scheme, your rental property in Charleston might not stand out enough to catch the attention of potential renters.
When you choose paint over siding, the color you pick for your property does not need to be a permanent decision. You can modify that decision whenever you want.
Cons:
Hidden Costs—At first, a do-it-yourself landlord who lacks exterior painting experience might seriously underestimate the cost of painting their rental property in Charleston.
According to homeadvisor.com, one gallon of high-quality paint will cover approximately 350 square feet. Since the exterior of the home will require two coats, that means a 2100 square-foot home will necessitate 12 gallons of paint.
At one of the local Lowe's, their "most durable, technologically-advanced" exterior paint costs approximately $52 per gallon, after taxes, so $52 X 12 = $624.
However, that's not even close to the final cost of the job.
First, most professionals recommend that you add up to 20 percent of your estimated need for any areas or materials that will need extra paint. That adds nearly $125.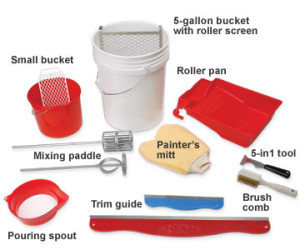 Next, project will require the purchase of additional painting supplies, especially if this is the first painting project that you have undertaken. To properly paint your rental property in Charleston, you will need brushes, rollers and rolling handles, a paint sprayer, buckets, drop cloths, paint hands, painter's tape, caulk, sandpaper, scrapers, and a ladder. Depending on the home you may also need a power washer and scaffolding.
The supplies can easily run you as much as $300-500, and even more, if you opt for high-end power equipment. The good news is the cost of the equipment can be spread out by using it over several properties or projects.
A home is much more than a vertical wall. There are also a number of exterior features and that also require painting, typically in accent colors not normally bought in bulk. Painting these other trim areas adds expense, even if you do the work yourself, including:
•Doors: $70 - $150
•Fascia: $500 - $1,000
•Gutters and downspouts: $200 - $800
•Porches: $500 - $2,000
•Shutters: $150 - $400
•Window sashes: $100 - $200
Even going with mid-range estimates, these items can add thousands of dollars to the cost of repainting your rental property in Charleston.
Finally, be aware that the construction material of the home's exterior will also affect the cost of the project. Different materials require increased preparation, different techniques, and more paint. If you opt for the services of a professional, be prepared to adjust the budget accordingly for labor.
Concrete—Requires special sealers, primers, and paints. Adds approximately $2/sq. ft.
Metal—May require cleaning, repair, or replacement. Adds approximately $1.50/sq. ft.
Stucco—Extensive prep, including caulking and filling in cracks. Adds at least $2/sq. ft.
Vinyl—Possible, but changing the finish isn't recommended. Adds about $2.25/sq. ft.
Wood—Price includes staining or painting. Can cost almost $3/sq. for smaller jobs.
If your rental property in Charleston was built before 1980 and you use a professional, you will be required by law to have the home tested to see if lead-safe containment practices will be necessary. If so, then the price will increase.
Time Commitment—Preparing and properly painting your rental property in Charleston requires a time commitment that should not be taken lightly. If you try to cut corners here, you could end up shortening the effective life of the paint job or worse, have an unsightly eyesore that is difficult to rent.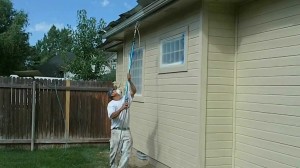 1. Power wash the exterior to remove any accumulated dirt, dust, or other residue. It should also remove any loose or chipped paint. Be aware that power washers can damage certain types of siding, so you may need something providing less water pressure.
2. Repair or re-nail any loose or broken boards, fascia, trim, or soffits beforehand.
3. Remove loose paint with a scraper or paint stripper.
4. Use a pad sander or sandpaper to smooth any rough spots.
5. Fill in any holes with caulk or putty.
6. Apply primer or first coat of paint. Allow time to dry.
7. Apply second coat. Allow time to dry.
8. Apply sealant.
It is very possible that correctly painting your rental property in Charleston could take up to two weeks, longer if you have to parcel out your time.
Temporary Fix-- By far the largest negative associated with training your rental property in Charleston is the fact that it is temporary in nature. Even when all the steps are followed and the best-quality paint available is used, the home can start to look weathered due to fading, chipping, and peeling in as little as seven or eight years.
On the other hand, if you try to be penny-wise and pound-foolish and purchase cheap low-quality paint, you might have to repaint everything again within two or three years.
If you plan on owning a particular piece of rental property in Charleston long-term, eventually the cost of painting and repainting will outpace the one-time expense of installing siding.
In the next entry, we will waive the pros and cons of installing siding. Whichever method of updating the exterior of your rental property in Charleston you choose, you can take pride in the fact that this one particular project that is mainly cosmetic in nature will often be the largest determining factor on whether or not renters can see themselves living in that home.